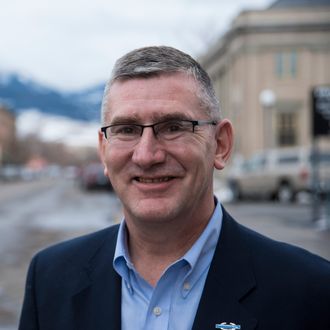 Photo: William Campbell/Corbis
Iraq veteran and rookie Montana Senator John Walsh (not the America's Most Wanted guy) was appointed in Max Baucus's spot earlier this year with the hope that he could hold on to the seat for Democrats in November using his military bona fides. But it turns out they are not as strong as previously thought: The New York Times' Jonathan Martin reports that much of Walsh's final paper for his master's degree from the United States Army War College was lifted wholesale from other sources, including each and every one of his conclusions.
And this was not the youthful foibles of a naive twentysomething but the shady work of a 46-year-old who apparently did not know how well Google works. The Times estimates that "at least a quarter" of the thesis was plagiarized, mostly from sources "easily accessible on the Internet."
Most strikingly, each of the six recommendations Mr. Walsh laid out at the conclusion of his 14-page paper, titled "The Case for Democracy as a Long Term National Strategy," is taken nearly word-for-word without attribution from a Carnegie Endowment for International Peace document on the same topic.
Confronted with the evidence, Walsh told Martin, "I didn't do anything intentional here," and when asked flat-out if he plagiarized, said, "I don't believe I did, no." He should probably take a look, then, at this handy Times graphic showing the extent of what was shamelessly ripped off.
And, no, it wasn't just sloppy footnoting or missing quotation marks: "In other instances, Mr. Walsh swaps a synonym for a word in the original document, and condenses sentences."
An aide said that at the time it was written, in 2007, Walsh was "going through a difficult period" dealing "with the experience of post-deployment" in Iraq, including the suicide of a member of his unit. But it's not the first time he's fudged his education credentials, the Times adds:
There has also been a discrepancy about where Mr. Walsh earned his undergraduate degree. He was listed in the biographical directory of Congress as having graduated in 1990 from the University at Albany, State University of New York, but actually earned his bachelor of science from what was then known as Regents College, an adult learning institute that issued degrees under the umbrella of the University of the State of New York.
Walsh was thought to be trailing in his race even before this ugly bombshell that completely undermines his credibility. He definitely will be now.