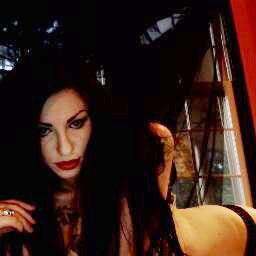 Photo: Alix Tichelman/Twitter
After 51-year-old Google executive Forrest Timothy Hayes was found dead on his yacht last November, police uncovered surveillance video showing that he wasn't alone at the time of his death. The tape shows a woman injecting Hayes with heroin, watching him writhe in pain, stepping over his slowly expiring body, and finishing a glass of wine before calmly walking away. 
On Friday, the woman in the video was arrested. Alix Catherine Tichelman, 26, is described as a "high-priced" sex worker whose ongoing relationship with Hayes included sex and heroin, and began when they met on a sugar daddy website. Tichelman is being charged with manslaughter, along with counts of transporting drugs and destroying evidence.
In order to arrest Tichelman, police first had to lure her back to Santa Cruz, which they did by posing as a wealthy client willing to pay $1,000 for sex. Tichelman, who majored in journalism, is a self-proclaimed model and dancer whose social media profiles reveal that she has pet monkeys (here's a picture) and enjoys conversations about murder. (Here's a quote: "It's really nice to talk with someone about killing sprees and murdering people in cold blood … ") She's being held on $1.5 million bail.