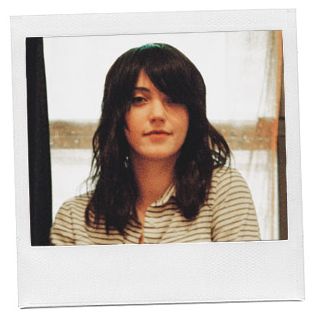 Name: Sharon Van Etten
Age: 33
Neighborhood: Greenwich Village
Occupation: Musician, currently on tour. Next weekend she'll be in Chicago performing alongside Beck, Kendrick Lamar, Neutral Milk Hotel, and more at the Pitchfork Music Festival.
Who's your favorite New Yorker, living or dead, real or fictional?
Separating the art from the artist, Woody Allen. His movies are so timeless and romantic. Before I even moved to the city, that was what my vision of being in New York was.
What's the best meal you've eaten in New York?
Txikito. On a nice summer day you go there and get one of their Basque wines and a bunch of small plates, and it's fun to share. I like that it's more of a social atmosphere than just sitting at a bar or just eating a full-on meal.

In one sentence, what do you actually do all day in your job?
We drive all day, set up our gear, sound check, have a one- or two-hour break, then perform an hour and a half, go check on the merch table, pack up gear, drive to the hotel, then try to sleep.

What was your first job in New York?
Astor Wines, when I first moved here in my early 20s. I really lucked out: Everyone there was super sweet, and once a week you got to do tastings and learn about different regions and different grapes and meet the producers. I like nerding out on wine.

What's the last thing you saw on Broadway?
The Scarlet Pimpernel in high school. I used to do a Broadway show every year with my mom. I remember we'd have to sit on either side of my dad because he tends to fall asleep during musicals, and we'd take turns elbowing him when he started to snore really loud. More recently mom tried to get me to see the Green Day musical, but I just couldn't do it. [Laughs.]

Do you give money to panhandlers?
Sometimes.

What's your drink?
Red wine or a tequila gimlet. You know how now and then you order a margarita at a restaurant and it just tastes like trash? I had a friend that's a bartender that said if you really want to play it on the safe side, nine out of ten times they'll make a gimlet like a real margarita. And it's a lot simpler, so there's a lot less room for error. It's really refreshing and it's still a nice sipper.

How often do you prepare your own meals?
Very rarely. I have standbys that I like to cook every once in a while, like stuffed shells and my dad's lemon chicken, but I don't have time to cook a lot of the time. Plus, I live alone and sometimes it kind of sucks to cook for yourself.

What's your favorite medication?
Singing.

What is the best thing in or about your apartment?
My melodigrand piano. It's a short-scale piano, and it's pretty affordable. It doesn't sound amazing, but it's perfect for writing and having in a small apartment.

What's the craziest thing you've ever seen on the subway?
Someone clipping their toenails. It appeared to be a normal person then they took their shoe off, then their sock off, and then they crossed their leg like a four and just started clipping away.

When was the last time you stayed out past 3 a.m.?
A couple weeks ago. We collect vinyl on the road, and someone gave me a gift of a portable record player. After gigs, we go back to the hotel room and just listen to the records that we bought until we pass out.

Which do you prefer, the old Times Square or the new Times Square?
Old Times Square. Because it's just more classic. I'm nostalgic, so I'm always going to remember it bustling, like when I was a kid.

What do you think of Mayor de Blasio?
I appreciate how much he listens to the masses and tries to balance the wants and needs of the real New York.

What do you hate most about living in New York?
Rent prices.

If you could banish one person from New York forever, who would it be?
The cell phone zombies. It's frustrating, not to mention dangerous in New York, with cars and bikers. Pedestrians get hit all the time! I like my phone, too, but it's kind of scary when you walk down the street and see how many people aren't looking up.

When's the last time you drove a car?
A week ago, driving through the States on tour. Our bass player Brad likes doing most of the driving because it's his van, but I do love doing the driving when I'm allowed to. I'm a good driver, too, darn it!

Finish this sentence: The NYPD _____.
Should fight more crime.

Times, Post, or Daily News?
Times.

Where do you go to be alone?
The water on the west side.

What makes someone a New Yorker?
Someone who appreciates their city and helps the people in it, while still being open to change and trying new things. They've also lived here a long time, but they don't have to be from here. I've lived in New York for ten years and I'm too shy to call myself a New Yorker. I'm from New Jersey.