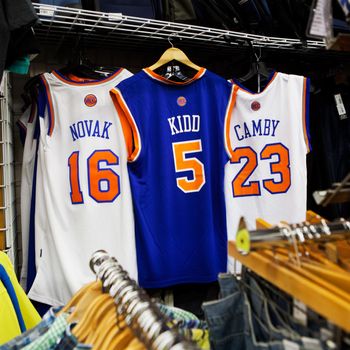 Photo: Konstantin Sergeyev
All the way in the back of the Hoboken shop Cheap Maggie's, past the dresses and the flip-flops and the men's shirts, hang rack after rack of Knicks and Rangers jerseys. That in and of itself isn't too unusual, but the selection of players is: There are no Carmelo Anthony or Iman Shumpert jerseys here, no uniforms with the names of Rangers stars like Henrik Lundqvist or Ryan McDonagh. Instead, browsing the racks turns up Jason Kidd's number 5, Marcus Camby's number 23, and Steve Novak's number 16. Meanwhile, the dozens of Rangers jerseys — a mix of home, road, and alternate uniforms, in adult sizes down to infant ones — all bear the same name and number: Marian Gaborik's number 10. Those players, as you may have noticed, all have something in common: None of them plays in New York any longer.
It's not a coincidence. Last August, the store purchased some 12,000 items from Madison Square Garden (at a fraction of their original cost) when the arena was clearing out unwanted stock from its stores. When a player like Gaborik is traded (as he was in April of 2013), stores like Modell's may slash the price of anything with his name on it, but those items become useless to the team, which isn't going to sell an item with an opponent's name on it. The same goes for year-specific items labeled "2013 playoffs," as well as other odds and ends.
And so Cheap Maggie's wound up with thousands of jerseys, shirts, and assorted merchandise with the names and numbers of former players, some of which is still stored in a warehouse. (They received more than 1,000 Jason Kidd jerseys alone.)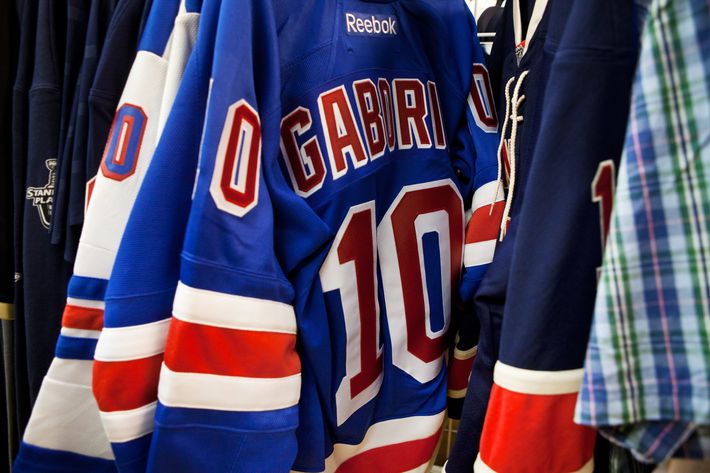 Looking for a Ronnie Brewer T-shirt? They've got one.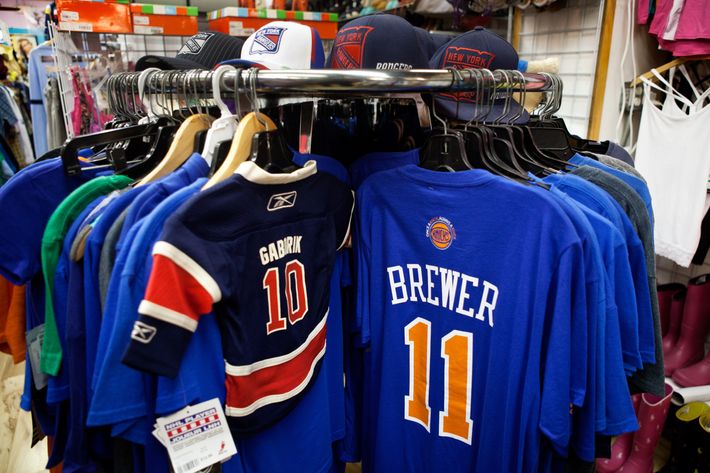 Want to commemorate Ryan Clowe's brief stint with the Rangers? They've got you covered.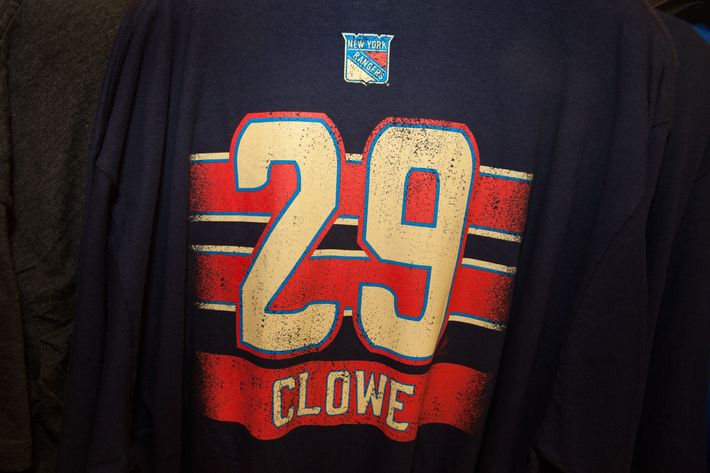 Still riding high from the Knicks'$2 2013 division title? Proudly wear the team's roster — with names like Earl Barron and Chris Copeland — on your back.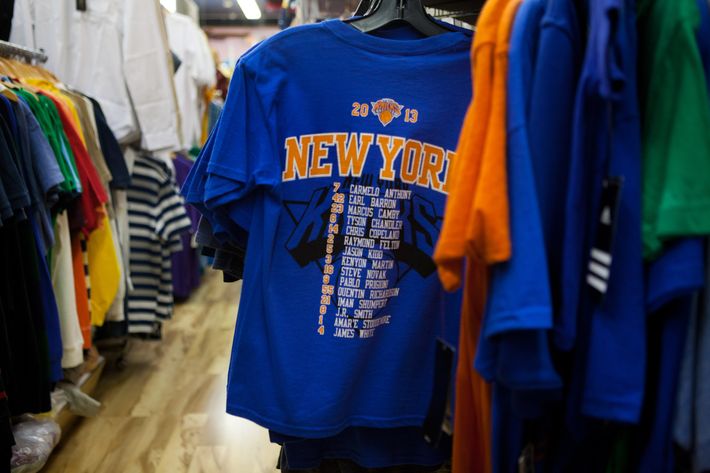 There's more outdated merch, too, from a pennant commemorating Carmelo Anthony's 2013 league-scoring title to teddy bears from the 2012 NHL Winter Classic, which the Rangers played in. (There's a handful of items with current players' names on them if you dig around the racks, but no jerseys.)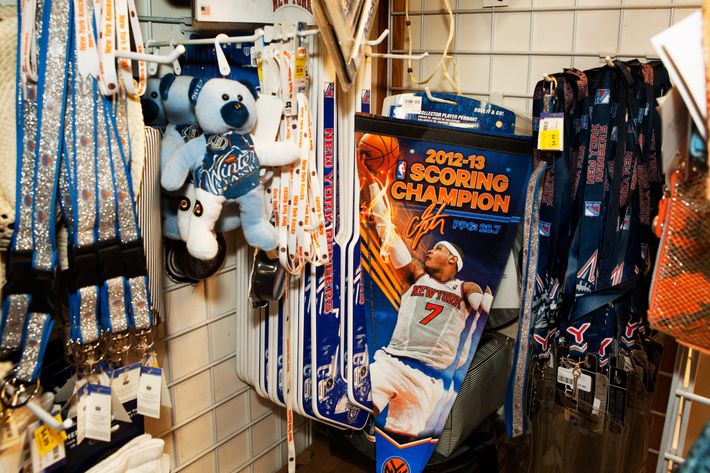 All things considered, the shop would rather be selling the jerseys of current players, but they take (and sell) what they can get. Explains Robert Krauss, a partner in the store and a huge sports fan who used to sneak into Mets and Jets games as a kid: "Every time someone got traded, we were like, 'Oh, fuck, that's going to create more of a problem.' We'd rather be selling Carmelo Anthony jerseys than Steve Novak jerseys."
But even the jerseys they did get sell pretty well. They estimate that they sell roughly 50-60 Knicks jerseys in a week during basketball season, plus around 20-30 Rangers jerseys. Sales slow in the off-season, but Alan Jacobs, one of the owners, says that the Gaborik jerseys sold especially well this spring, when his Los Angeles Kings played the Rangers in the Stanley Cup Final. The price, after all, is a fraction of what the jerseys would have cost at the Garden: Rangers jerseys, which still have visible $185 MSG price tags on them, sell for $69.99. Knicks jerseys, which originally sold for up to $90, are available for $19.99.
Jacobs says he'd like to do business with the Garden again this year, and plans to bid if they're looking to unload more goods this summer. So, in case you're in the market for a cheap Tyson Chandler jersey (or maybe a heavily discounted Ryan Callahan sweater), you might want to check in at Cheap Maggie's come fall.