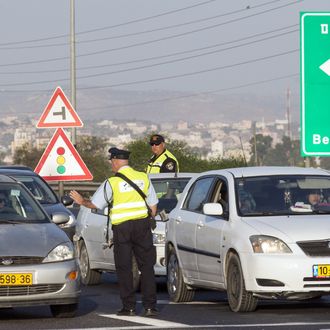 The Israeli authorities have arrested six Jewish suspects for the abduction and killing of Muhammad Abu Khdeir, the Palestinian 16-year-old who was forced into a car as he was preparing to attend predawn prayers on Wednesday morning. The teen's charred body was found in a forest several hours later, and an autopsy report indicates that he was beaten and burned alive.
Muhammad's murder has been widely assumed to be an act of revenge for the kidnapping and shooting of three Israeli teenagers, whose bodies were found in the West Bank last week after weeks of searching. An anonymous official told the Associated Press that the suspects are "young males, including several minors" who seem to have "acted on nationalistic grounds."
The Palestinian teen's death has triggered violent protests in his east Jerusalem neighborhood. Among those who clashed with Israeli police officers was Muhammad's 15-year-old American-born cousin, Tariq Khdeir, who is visiting his family for the summer.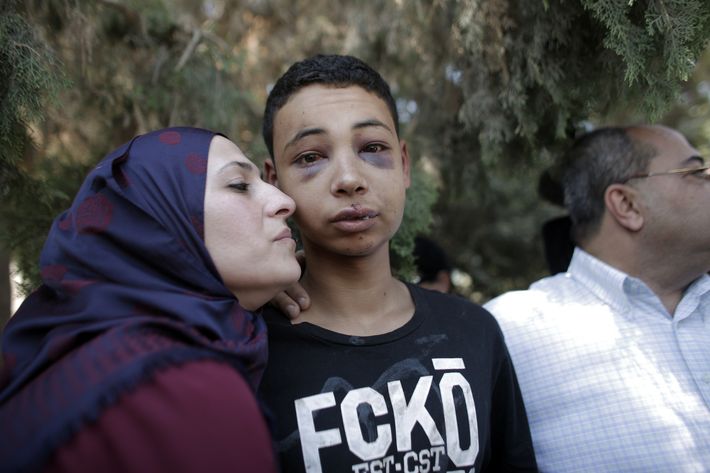 Tariq was arrested and badly injured in the process, and photos of his swollen face prompted State Department spokesperson Jen Psaki to announce that an American consular officer visited the teen on Saturday. She also called for a "speedy, transparent and credible investigation," and condemned "any excessive use of force" on the part of the Israelis. He's now under house arrest.
Meanwhile, Israel ordered airstrikes on ten Palestinian sites along the Gaza border in response to Palestinian rocket attacks on southern Israeli towns. In a Sunday statement, Prime Minister Benjamin Netanyahu seemed to discourage further fighting with Hamas, which controls the Gaza Strip, saying, "Experience has shown that during moments like these, one must act in a level-headed and responsible manner and not hastily." Still, Reuters reports that Israel has "beefed up" ground forces along the border in order to signal that "an invasion was an option."