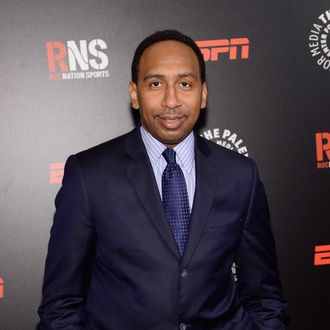 Photo: Jamie McCarthy/Getty Images
For knocking his then-fiancée unconscious at an Atlantic City casino and then dragging her limp body from the elevator, all of it caught on surveillance video, Baltimore Ravens running back Ray Rice was suspended just two games by the NFL. If that alone doesn't blur your eyes with rage, try the reaction of ESPN analyst Stephen A. Smith, who on First Take this morning said to the women of the world, "let's make sure we don't do anything to provoke wrong actions … I think that just talking about what guys shouldn't do, we got to also make sure that you can do your part to do whatever you can do to make, to try to make sure it doesn't happen."
And if that sounds like victim-blaming, Stephen A. Smith would like you to know, ladies, that you just don't understand him. "Enough is enough," he wrote after a few hours of internet backlash against his comments. "I simply asked: now what about the other side … what about addressing women on how they can help prevent the obvious wrong being done upon them?"
Here's the rest of the monologue, via Deadspin, including the part about the "elements of provocation" (emphasis ours):
It's not about him, then. It's about you, and here's what I mean by that. We keep talking about the guys. We know you have no business putting your hands on a woman. I don't know how many times I got to reiterate that. […] But what I've tried to employ the female members of my family, some of who you all met and talked to and what have you, is that again, and this what, I've done this all my life, let's make sure we don't do anything to provoke wrong actions, because if I come, or somebody else come, whether it's law enforcement officials, your brother or the fellas that you know, if we come after somebody has put their hands on you, it doesn't negate the fact that they already put their hands on you. So let's try to make sure that we can do our part in making sure that that doesn't happen. Now you got some dudes that are just horrible and they're going to do it anyway, and there's never an excuse to put your hands on a woman. But domestic violence or whatever the case may be, with men putting their hands on women, is obviously a very real, real issue in our society. And I think that just talking about what guys shouldn't do, we got to also make sure that you can do your part to do whatever you can do to make, to try to make sure it doesn't happen. We know they're wrong. We know they're criminals. We know they probably deserve to be in jail. In Ray Rice's case, he probably deserves more than a 2-game suspension which we both acknowledged. But at the same time, we also have to make sure that we learn as much as we can about elements of provocation. Not that there's real provocation, but the elements of provocation, you got to make sure that you address them, because we've got to do is do what we can to try to prevent the situation from happening in any way. And I don't think that's broached enough, is all I'm saying. No point of blame.
"No point of blame," he says in closing, after offering the opposite. Smith's ESPN colleague Michelle Beadle, of SportsNation, responded eloquently on Twitter:
Which only led Smith to dig himself deeper in a string of tweets that provided no clarification:
Upon hearing what I had to say, although admitting I could've been more articulate on the matter, let me be clear: I don't understand how on earth someone could interpret that I somehow was saying women are to blame for domestic violence. And when I saw ‪@MichelleDBeadle – a colleague I have profound respect for – tweet what she tweeted, enough is enough. Something needs to be said right now. REPEATEDLY i said: There is absolutely no excuse to put your hands on a women. REPEATEDLY, I said dudes who do that need to be dealt with. REPEATEDLY, I echoed when confronted by it in the past – when someone was stupid enough to touch a loved one of this man, raised by 4 older sisters, a mom and numerous female relatives and loved ones, that man was dealt with. From that point, I simply asked: now what about the other side. If a man is pathetic and stupid enough to put his hands on a woman – which I have NEVER DONE, btw – of course he needs to pay the price. Who on earth is denying that? But what about addressing women on how they can help prevent the obvious wrong being done upon them? In no way was I accusing a women of being wrong. I was simply saying what that preventive measures always need to be addressed because there's only but so much that can be done after the fact….once the damage is already done. Nothing more. My apologies to ‪@MichelleDBeadle And any woman out there who misconstrued what I said. I have always – and will always – find violence against a women every bit as horrific as women, themselves, find it. Always have. Always will, which my personal behavior exemplifies. I'll strive to be more articulate in the future. But be clear, I wasn't BLAMING women for anything. I was simply saying to take all things into consideration for preventative purposes. Period.
(In a second statement, Smith added, "I do NOT believe a woman provokes the horrible domestic abuses that are sadly such a major problem in our society. I wasn't trying to say that or even imply it when I was discussing my own personal upbringing and the important role the women in my family have played in my life. I understand why my comments could be taken another way." The rest is here.)
Of course the problem goes far beyond Smith and ESPN, which has not commented on the segment or said whether Smith will face any disciplinary action. But for NFL fans at least, Smith's ignorance, stated so forcefully, makes him a prime (and at least somewhat deserving) target of all of the frustration that has been building with regard to the terrible handling of the ugly Rice incident on all sides, not to mention the hideous ways society at large treats abused women. When Rice appeared at a press conference with his victim, who is now his wife, he apologized to his team, but never to her. "Sometimes in life, you will get knocked down," he said. She apologized as well, a fact the official Ravens Twitter account was sure to note:
Smith, in other words, did not come to these ideas on his own.