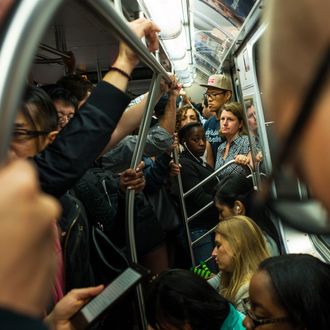 Photo: Robert Nickelsberg/Getty Images
More plainclothes officers and an increased focus on sex crimes have made life deservedly harder on subway perverts this year. Through last Sunday, the NYPD made 128 arrests for forcible touching and other sex crimes on MTA trains, the Daily News reports. That's a 23 percent jump from this time last year, when 104 such arrests were made.
The crackdown is part of police commissioner Bill Bratton's attempt to clean up quality-of-life issues on the subway. Along with more arrests of boner-pushing pervs, Bratton can boast about putting more panhandlers (including the "Showtime!" dancer kids) and subway vendors behind bars, including those ever-menacing churro salespeople.