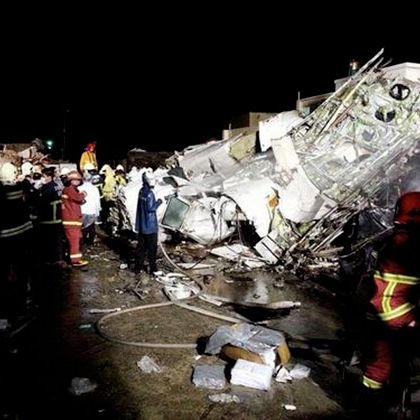 Photo: AirLiveNet/Twitter
At least 47 people are dead after a TransAsia Airways plane crashed during an attempted emergency landing in Taiwan's Penghu Islands today. Another 11 people were injured, according to the country's transportation minister. The 72-seat plane was flying from Kaohsiung, the country's second largest city, to Penghu, with 54 passengers and four crew members onboard.
Reports from Chinese media say the plane attempted to make an emergency landing in the city Magong due to bad weather caused by Typhoon Matmo. According to The China Post the plane lost contact with air traffic control as it attempted to land and crashed into two residential buildings in a village just north of the airport.
Witnesses reported seeing a big fire at the scene of the crash, and the photos so far corroborate those reports.