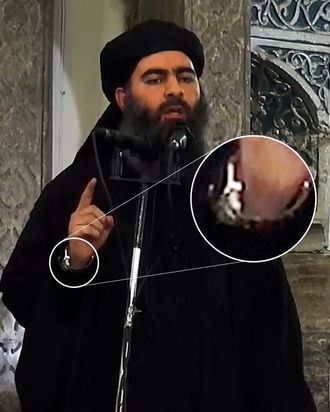 Photo: Anadolu Agency/Getty Images
Fresh off of lifting $425 million from the central bank in Mosul, the leader of ISIS, "the world's richest terrorist group" (worth an estimated $2 billion), flashed some statement bling for the world to see. His face, too: Abu Bakr al-Baghdadi proclaimed himself the leader of all the world's Muslims, the self-appointed "Caliph Ibrahim," in a Friday appearance thought to be the first by the shadowy figure leading a bloody jihadist militia across Iraq.
From underneath his traditional black robe slipped a pretty nice-looking accessory (unless it's just a knockoff), The Telegraph reports:
His choice of accessory, which is believed to be either a Rolex, Sekonda or £3,500 Omega seamaster, has been highlighted as jarring with the content of his controversial speech. […]

The watch bore an obvious resemblance to models designed by a number of famous watchmakers, including the £3,490 Omega seamaster Aqua Terra and a much cheaper Sekonda time piece.
Either way, Baghdadi's followers shouldn't expect the same. "I do not promise you what the kings and rulers promise their subjects and followers — luxury and security and leisure," he said in the speech. "But I promise what God promises those who believe in him." Heaven or not, the jewelry is on you.