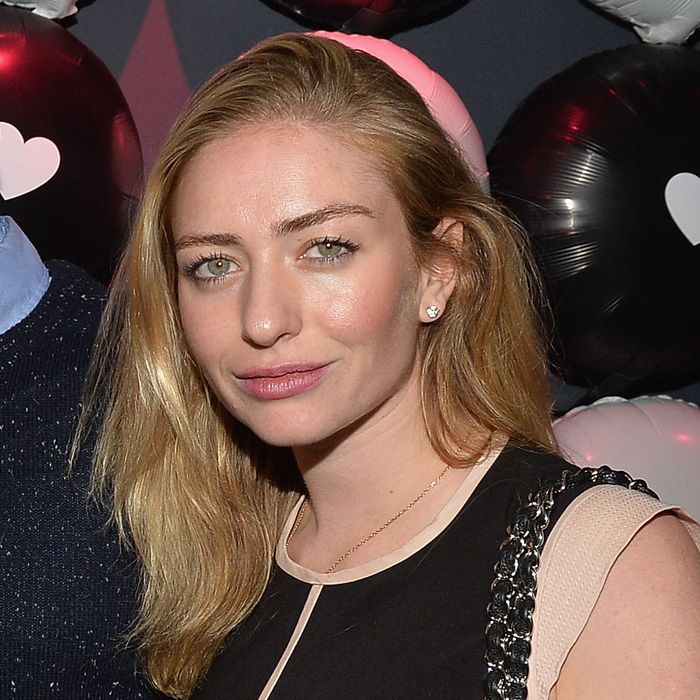 Whitney Wolfe
Photo: Michael Buckner/Getty Images
The extent of "brogrammer" culture in the tech industry may be overstated, but some young, male start-up honchos are clearly having issues keeping their misogyny in check. First, Snapchat's CEO was embarrassed by his fratty, sexist college emails. And now Tinder, the hot L.A.-based dating start-up, is being torn apart by a sexual harassment lawsuit brought against the company by its female co-founder Whitney Wolfe.
In the complaint (PDF), Wolfe alleges that her Tinder co-founders, Sean Rad and Justin Mateen, "subjected [her] to a barrage of horrendously sexist, racist, and otherwise inappropriate comments, emails and text messages," including calling her a "whore," and threatening to take away her co-founder title because having a female co-founder would make Tinder "seem like a joke."
Following the complaint, IAC-backed Tinder put Mateen on leave, pending an investigation. "Through that process, it has become clear that Mr. Mateen sent private messages to Ms. Wolfe containing inappropriate content," an IAC spokesman told USA Today. "We unequivocally condemn these messages, but believe that Ms. Wolfe's allegations with respect to Tinder and its management are unfounded."
The text messages between Wolfe and her male co-founders, presented as evidence in her suit, are appalling. In one, Mateen jealously rails against Wolfe (whom he had dated at one point) for talking to "middle aged Muslim pigs." In another, he says of a new man in her life, "I will shit on him in life … Let's see if that homo can make money without daddy. I have 5 wins under my belt and in [sic] hungry as fuck." Elsewhere, Wolfe claims, Rad and Mateen subjected her to messages about "'fucking' the wife of a prominent blogger, and a text depicting IAC Chairman Barry Diller as a penis."
Wolfe also claims that Rad and Mateen intentionally downplayed her role in Tinder's founding (she came up with the name, among other things) because of her gender:
When Tinder-related articles appeared in more traditional business outlets, Wolfe's name was often nowhere to be seen. When she would ask why only her name of the five founders was absent they would tell her "you're a girl." They stated that they couldn't include her name in the businesspress, because it "makes the company look like it was an accident." According to Mr. Mateen "a girl founder," who at the time was 24, devalued the company. They also said five founders looked like "too many cooks in the kitchen."
Wolfe alleges that she took her complaints about Mateen up to Rad, the company's CEO, but he refused to deal with them, and "would
simply accuse Ms. Wolfe of being 'dramatic,' or 'annoying'." Wolfe claims that she was "bullied" into resigning in April of this year, after bringing up Mateen's mistreatment with Rad.
The lawsuit is filled with even more ugly, sexist allegations. And we can expect Tinder and IAC to come back with a vigorous defense. But the damage has likely already been done. Just as Facebook's early scandal — Mark Zuckerberg's feud with the Winklevoss twins — defined that company's founding narrative, Tinder may exist under a dark cloud of co-founder misogyny for the foreseeable future. For a dating app that has made its appeal to female users a selling point, an allegedly "frat-like" corporate culture can't be a good thing.