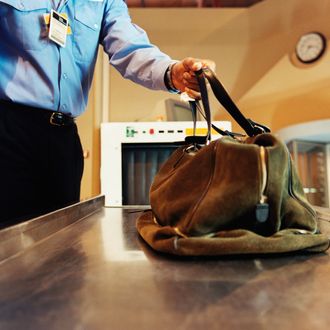 Photo: Patrik Giardino/Corbis
Forgetting to throw your cell phone charger in your bag is already pretty high on the list of travel annoyances, but now it could lead to an altercation with the TSA. The agency announced on Sunday that U.S.-bound travelers at some overseas airports will be asked to turn on their cell phones and other electronic devices before boarding. "As the traveling public knows, all electronic devices are screened by security officers," the TSA said in a statement. "Powerless devices will not be permitted onboard the aircraft. The traveler may also undergo additional screening." The new restriction was sparked by fears that terrorists may be developing bombs that can be hidden in gutted electronic devices. 
The new rule follows an order from Homeland Security Secretary Jeh Johnson last week that the TSA "implement enhanced security measures" at some of the roughly 250 foreign airports that offer nonstop service to the United States. Officials said there is no specific threat against the U.S., or proof that terrorists have attempted to use such a device. However, ABC News reported last week that there are concerns that terrorists in Syria are developing new types of bombs to bring on commercial aircraft. Analysts believe that some extremist groups there hope to bring down a U.S. or Europe-bound plane, with help from foreigners who have joined the conflict.
For now the restriction only affects U.S.-bound international travelers, but in an interview on Meet the Press, Johnson wouldn't say if the security procedure might be expanded to domestic flights. "We continue to evaluate things," he said. "The screening we have right domestically from one domestic airport to another is pretty robust as the American traveling public knows. In this instance we felt that it was important to crank it up some at the last point of departure airports and we'll continually evaluate the situation." Someday we may actually look back fondly on the days when we only had to take off our shoes.