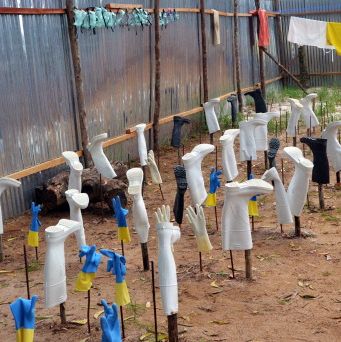 Photo: ZOOM DOSSO/AFP/Getty Images
The Ebola epidemic rages on in West Africa, and two American aid workers have now caught the deadly disease. Dr. Kent Brantly and Nancy Writebol have been diagnosed with the Ebola virus, and are now quarantined and in serious condition.
Brantly, a 33-year-old father of two who treated Ebola patients, was reportedly "talking with his doctors and working on his computer while being treated." He has been in Liberia with the faith-based organization Samaritan's Purse, founded by Billy Graham's son Franklin, since October. His wife and children flew back to the United States recently and have not shown symptoms of the virus.
Writebol is a Christian missionary serving in Liberia through Serving in Mission, an organization that partners with "churches worldwide to evangelise, minister to human need, disciple and equip churches for Christ's Great Commission." She is not a medical professional. Nancy and her husband, David, have two sons, and previously served in Ecuador and Zambia, according to their SIM webpage:
Nancy, as Personnel Coordinator, serves the missionaries and short-term teams in Liberia, helping with their entry into the country. She coordinates the member care and vitality of these servants. She also serves the CNA and nursing staff at the hospital in developing a culture of patient care and compassion.
According to Samaritan's Purse's Ken Isaacs, "Both [Brantly and Writebol] tonight are in stable condition."
This most recent appearance of Ebola has already claimed the lives of more than 670 people across four countries since February. The over 1,000 confirmed cases are spread out across Guinea, Sierra Leone, Liberia, and Nigeria, in what is now being called the worst outbreak ever. Roughly 60 percent of those who contracted the disease have died, and some projections have the outbreak lasting into the fall. 
Among the most prominent deaths was that of Samuel Brisbane, a high-profile Liberian doctor, while Sierra Leone's top Ebola expert is currently infected with the disease.