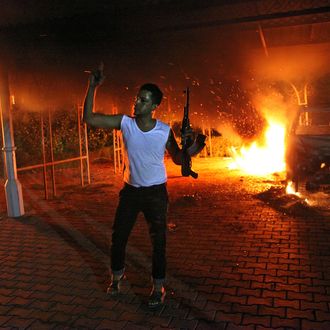 Photo: STR/AFP/Getty Images
It's still unclear if the attacks against the U.S. mission in Benghazi in 2012 began as a spontaneous response to a YouTube video or a coordinated assault, and that may be because it was both. The Associated Press reports that new testimony from top military commanders highlights a fact that's often overlooked by people on both sides of the debate: There were two separate incidents, which took place about eight hours apart. In interviews with two House committees earlier this year, nine officers involved in the response to the attacks suggested that two different groups attacked the U.S. consulate on September 11, and the CIA annex the next morning.
The officials weren't clear on what sparked the first attack. They told Congress in closed-door testimony that while the men who started the fire that killed Ambassador Chris Stevens and another American appeared to be at least somewhat familiar with the facility, the building was later overrun by a disorganized mob. A military attaché to the U.S. Embassy in Tripoli said the attackers might have had a plan "on the shelf," and hit when they saw an opportunity. "They came in, and they had a sense of purpose, and I think it sometimes gets confused because you had looters and everyone else coming in," he said. "It was less than kind of full, thought-out, methodical."
Retired General Carter Ham said the second attack at the CIA complex, which left two American security contractors dead, might have been carried out by a different group, which possibly "came from outside Benghazi." "Given the precision of the attack, it was a well-trained mortar crew, and in my estimation they probably had a well-trained observer," said Ham, adding that the attack at dawn showed "a degree of sophistication and military training that is relatively unusual and certainly, I think, indicates that this was not a pickup team. This was not a couple of guys who just found a mortar someplace."
Adding yet another layer of confusion, the Justice Department has accused the recently apprehended Ahmed Abu Khattala of being involved in both incidents. In court documents, the government says Khattala "supervised" the first attack, then returned to the camp of the militant group Ansar al-Sharia to help coordinate the second strike. The Justice Department has yet to offer evidence to support its claim, but presumably, there are a few members of Congress willing to figure out why there's a discrepancy.