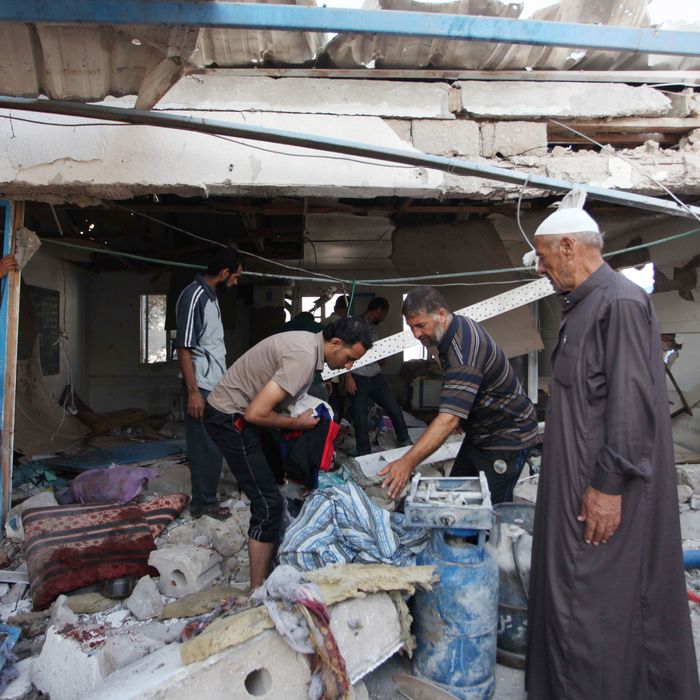 An Israeli strike hit into a crowded U.N. school used as shelter for refugees in the northern Gaza Strip early on Wednesday, killing at least 15 people, the Palestinian Health Ministry said.
Photo: Ashraf Amra/Anadolu Agency/Getty Images
Although the United States opted not to name Israel in its condemnation of Wednesday's attack on a school serving as a U.N. shelter in Gaza, Secretary General Ban Ki-moon had no such reservations. "I condemn this attack in the strongest possible terms. It is outrageous. It is unjustifiable, and it demands accountability and justice," he said, adding that "all available evidence points to Israeli artillery as the cause." The U.N. had informed Israel 17 times of the school's exact GPS coordinates.
"Nothing is more shameful than attacking sleeping children," he said.
Chris Gunness, a spokesperson for the United Nations Relief and Works Agency, which is running more than 80 shelters, at least six of which have been struck in this month's offensives, broke down completely while describing yesterday's school shelling. "The rights of Palestinians, even their children, are wholesale denied, and it's appalling," he said on Al Jazeera before collapsing into tears.
"This is a moment where you really have to say 'enough is enough,' and you have to search for the right words to convince those who have the power to stop this," said U.N. deputy secretary general Jan Eliasson.
Israel, however, showed no signs of relenting. After a day of fighting that killed more than 100 Palestinians and three Israeli soldiers, Prime Minister Netanyahu said his country's mission to destroy the tunnel system that allows Hamas militants into Israel will be completed "with or without a cease-fire." The IDF has also called up an additional 16,000 reservists. "I won't agree to any proposal that will not enable the Israeli military to complete this important task for the sake of Israel's security," said Netanyahu.