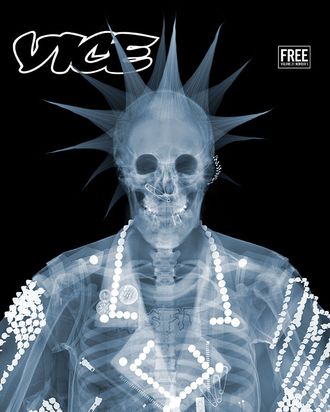 In case being valued in the billions, with investments from Rupert Murdoch and interest from Time Warner, wasn't enough to make Vice feel wanted, New York is wooing the millennial-oriented media company, too. The Wall Street Journal reports that the punk zine turned video empire will "receive $6.5 million in state tax incentives" if it hires 525 pretty and tattooed employees to fill its new 60,000-square-foot space in south Williamsburg over the next five years. The Bedford stop is dead.
"Brooklyn is our home and we're already hard at work developing a freaky, space-age utopia that will give today's creative visionaries a place to produce astonishing stories and leave their indelible thumbprint on the annals of history," a spokesperson told the Journal, pointing out that 75 percent of its 400 current employees already live in Williamsburg.
But this "freaky, space-age uptopia" will be on South Second Street at Kent Avenue, down the hipster way from Vice's current headquarters on the north side of Williamsburg. "The south side," this magazine reported two years ago, "has remained comparatively untouched — scruffier and more residential. Now that's changing, too." (The New York Times later called the south end "gritty, hyper-authentic … like New York in the '80s.") A little bit dirty but getting sleeker and shinier every day? It's basically Vice in neighborhood form — of course they want to own it.