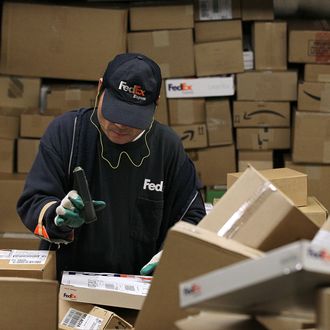 Look at all that inventory.
Photo: Justin Sullivan/Getty Images
After shrinking at a 2.1 percent annualized pace in the first quarter, economic growth surged to 4 percent in the second quarter.  
How to reconcile those two assessments of the same economy? Well, the big first quarter dip seems to be an anomaly, owing to bad weather, cutbacks in inventory and the Affordable Care Act doing something strange to the health-care numbers. The second quarter boom is not really as big as it seems, either. Some of that is snapback from the crummy winter. Consumers who did not want to go outside and buy a car in January went ahead and did it in April. And some of it is owing to businesses building up their inventories. Take away inventories, and the economy shrank at a one percent pace in the first quarter and grew at a 2.3 percent pace in the second.
In other words, little has changed: We're still stuck with the same good-not-great growth we have had for much of the recovery.
Nevertheless, it does seem that the recovery might be gaining a bit of a head of steam. The government revised its estimates of growth in the second half of 2013 up to 4 percent, the strongest expansion in a decade. Hiring seems to be picking up, too.
The big question for Wall Street and Washington is whether any of this will change the Federal Reserve's mind. This afternoon, the bank's policy-making committee is expected to announce that they will continue to taper their bond purchases, ending that intervention in the markets in the fall. Is there anything to make them rethink their decision in here? I doubt it. The numbers are sloshing around, but the story's staying the same.