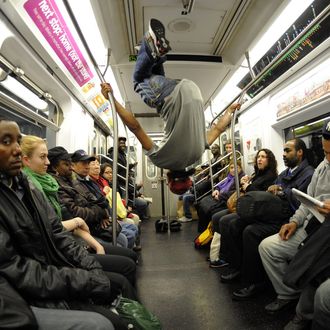 Photo: Timothy A Clary/AFP/Getty Images
"It's Showtime!" are two of the most polarizing words in New York City public transit, but in Bill de Blasio's town, the performance that follows is going the way of the peep show. That's the plan, at least: NYPD Commissioner Bill Bratton's continued crackdown on beat-boxing subway acrobats has resulted in more than 240 arrests so far in 2014, six times the amount at this time last year.
"Is it a significant crime? Certainly not," admitted Bratton, who subscribes to the "broken windows" theory of policing, in which low-level shenanigans are stamped out before they can blossom into violence and anarchy. "Does it have the potential both for creating a level of fear as well as a level of risk that you want to deal with?" he added. Um, maybe?
The police are also floating the idea that dancing in close quarters is, in and of itself, dangerous. "If the dancers make a mistake, someone could get hurt," explained Chief Joseph Fox, head of the NYPD's Transit Bureau. "The dancers themselves could get hurt."
But the AP reports that no injuries have been reported. The disturbance comes instead when the NYPD jumps in to criminalize creative panhandling:
The arrests are usually uneventful but can turn nasty. An acrobat who was being arrested spit on one officer and tried to bite another.

"No matter how you look at it, it's dangerous," Fox said. "It's dangerous for us, too."
Or … it doesn't have to be! "We all, as New Yorkers, get these force fields around us," said one performer. "We just try to go inside the train and change the vibe." But nothing changes the vibe back to tense and adversarial like arresting a teenager for dancing.