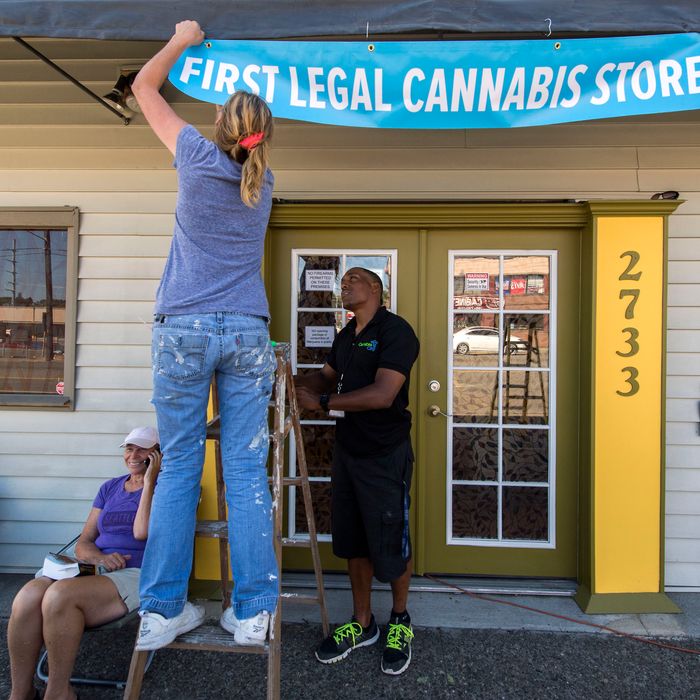 Employees hang a banner outside Cannabis City, the sole dispensary in Seattle, on July 7.
Photo: Brian Cahn
It's been 20 months since Washington State voted to legalize recreational marijuana, and at 8 a.m. on Tuesday it will finally become the second state to begin selling pot. (Colorado, which also legalized marijuana in November 2012, started selling in January.) Only about 20 stores are expected to open on Tuesday, and those who can't wait to get their hands on some legal weed can expect to see long lines, high prices, and a limited supply. Some store owners will give pot pioneers a break by offering reduced prices on the first day, and Cannabis City, which is the only shop in Seattle for now, won't open until noon. "Know your audience: We're talking stoners here," owner James Lathrop told the AP. "I'd be mean to say they need to get up at 5 a.m. to get in line."
Whether you're thinking about joining the crowd at your local shop, or jealously eyeing Washington from across the country, here are answers to all your questions about getting legally high in the aptly named Evergreen State.
What caused the delay?
Writing new regulations, screening applicants, and getting growers and retailers up and running wasn't easy. While Colorado required retailers to grow 70 percent of what they sell, in Washington, stores can't sell their own product. The state Liquor Control Board has only authorized 80 growers out of more than 2,600 applicants. Growers only received their licenses in March, so they haven't had time to produce a large crop, and the board is still going through hundreds of applications.
The same goes for retail stores. Applicants had to prove that they had a lease for retail space, and according to the board's website, the shops can not be located within 1,000 feet of "any elementary or secondary school, playground, recreation center or facility, child care center, public park, public transit center, library, or game arcade that allows minors to enter."
Brian Smith, a spokesperson for the Liquor Control Board, said 20 to 50 percent of the retail applications were incomplete, and the board gave applicants time to submit additional information. "There is a gold rush mentality. Many didn't read what it would require to get a license," he said. "We didn't expect 7,000 applicants."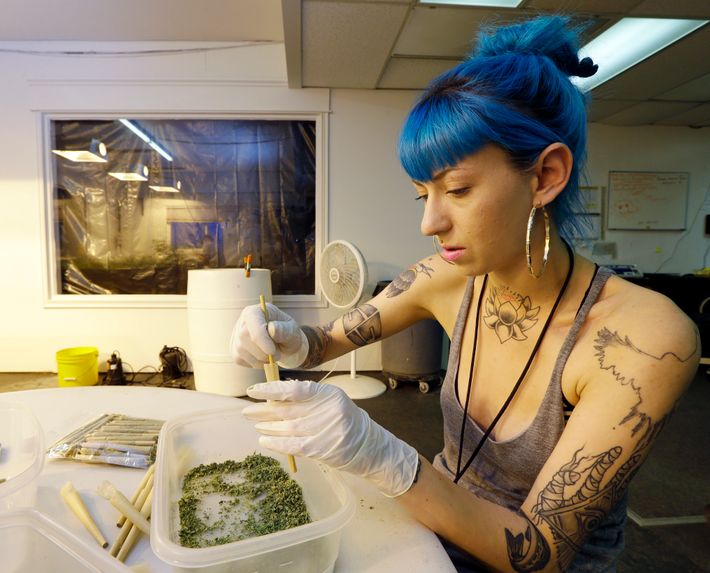 Where will marijuana be sold?
The law caps the number of recreational marijuana stores at 334 statewide, and the state has issued 25 licenses so far. The retailers were notified via email early on Monday morning that they could begin placing their orders with licensed processors via a statewide computer-tracking system. The Associated Press has a list of all 25 locations, along with their expected opening times. Only six stores will be open on Tuesday: Top Shelf Cannabis and 2020 Solutions in Bellingham, Freedom Market in Kelso, Altitude in Prosser, Spokane Green Leaf, and Seattle's Cannabis City. Stores can remain open from 8 a.m. to midnight. 
Who can purchase pot?
The law says anyone who is 21 or older can buy up to 1 ounce of marijuana, 16 ounces of edible pot products, or 72 ounces of marijuana-infused liquid. However, Reuters reports that in the coming weeks retailers may be rationing their small supply, and there are no edibles available, as the state hasn't cleared any processor to produce food. Unlike in Colorado, where nonresidents are limited to buying a quarter-ounce at a time, people from out of state are free to buy as much as Washingtonians.
How much will it cost?
According to The Cannabist, marijuana is expected to cost $10 to $25 per gram initially. Prices may drop as the supply increases and the novelty of legally buying weed wears off, but it still costs around $16 to $20 per gram in Colorado.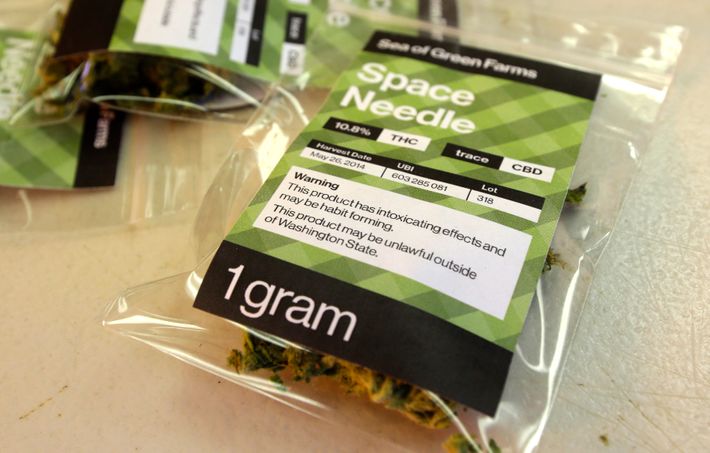 How is Washington regulating the drug?
All marijuana products must be lab tested, with the active ingredients listed on the label. All packaging for edibles must be submitted to the Liquor Control Board for approval, and images that may appeal to children are banned. Food products must have the serving size "prominently displayed on the packaging" and be "homogenized to ensure uniform disbursement of cannabinoids," so this time Maureen Dowd has no excuse.
Where is it legal to use marijuana?
There's the rub. Consuming marijuana, or even opening a package containing pot, "in view of the general public" is prohibited. So if you're in your home you can smoke as much pot as you'd like (or rather, as much of the single ounce of dried marijuana you're allowed to have in your possession). However, as the Seattle Times explains, you can't use it in parks or on the street, and apartment buildings are a gray area. There's been talk of allowing private clubs to accommodate tourists and apartment dwellers, but for now the board doesn't plan to take up the issue.
On the other hand, the fine for consuming pot in public is only $27, and it sounds like the cops are going to be cool about it. "Everyone's probably going to get several free passes," said Sergeant Sean Whitcomb, a spokesperson for the Seattle Police Department. "We want to be generous." We're still living in a state where the governor worries that marijuana is a gateway to heroin usage, so we'll believe that when we see it.