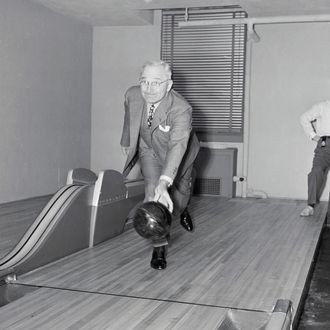 Photo: Marion Carpenter/Corbis
Yesterday morning, nearly 70 years after the White House got its own bowling alley, the General Services Administration posted a solicitation for bids to renovate the two decrepit lanes that are now located in the Eisenhower Executive Office Building. "The objective here is to replace the current, damaged and out dated lanes, approaches, pin setter platform (or pin deck) and gutters with new and modern products," it said. But before D.C.-area bowling alley renovators could even fire off a proposal, the project was abruptly canceled. 
No explanation was given, but it's a safe bet that someone realized spending tax dollars on a West Wing–only bowling alley would have looked pretty bad. Not as bad as the puke green carpet in this ancient bowling alley, but still pretty bad.