The new super-tall tower, scheduled to be finished in 2018, is the work of Adrian Smith + Gordon Gill Architecture, the people behind Dubai's Burj Khalifa, known as the tallest building in the world.
More from YIMBY, which also has unofficial renderings:
Manhattan will finally retake the 'tallest roof' in the United States from Chicago's Willis Tower, which stands 1,451′, and 225 West 57th Street will become the tallest residential building in the entire world, surpassing both 432 Park Avenue and Mumbai's World One Tower.

[…] instead of deferring to the "Freedom Tower," 225 West 57th Street should surpass it, returning the title of Manhattan's tallest building to Midtown on a more permanent basis.
But then everyone would hate midtown even more than they do now.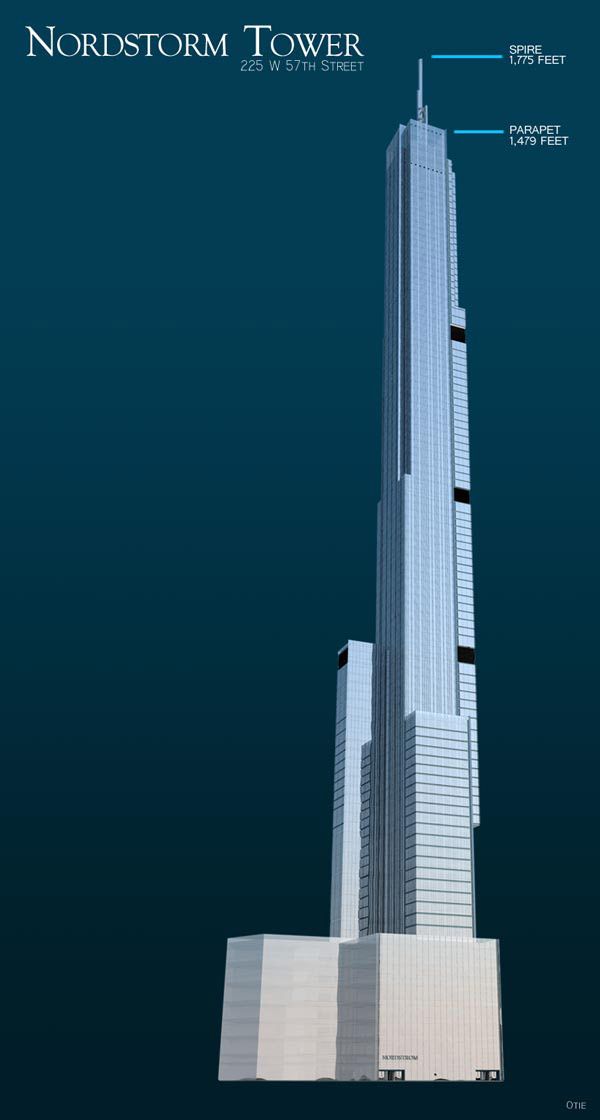 The Nordstrom Tower, at 225 West 57th Street, has no interest in letting the terrorists win. While its designers plan to make it the world's tallest residential building, New York YIMBY reports that its "facade will top-out 1,479′ above street level, while a surprise spire on top will cap the tower at 1,775 feet," one meaningful foot short of One World Trade Center (née the Freedom Tower) and its 1,776-foot peak.