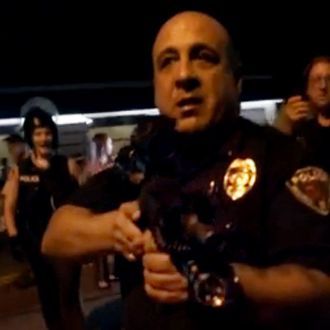 St. Ann police Lieutenant Ray Albers, better known as Officer "Go Fuck Yourself," has resigned after pointing his rifle at protesters in Ferguson and telling them, "I will fucking kill you." An internal inquiry recommended he either resign or be fired for the incident, which was caught on video, although the local police chief insists Albers raising his weapon was "totally justifiable." Well, not totally, apparently.
From the St. Louis Post-Dispatch:
Prior to the camera turning on, Albers had had water and urine thrown at him, [Chief Aaron Jiminez] said. He then saw three men with bandanas in the crowd, and one of them had a gun. He then heard gunshots, but not from that gun. So Albers raised his gun.
"That's why he used those words," said Jiminez, who added, "I'm not condoning his behavior whatsoever." (Maybe just a little bit.)
Officer Matthew Pappert of the nearby Glendale Police Department has also been fired following a suspension for racist Facebook postings about the protests. Pappert's public suggestions included that the demonstrators ("a burden on society and a blight on the community," "thugs") be "put down like rabid dogs." He added, "Where is a Muslim with a backpack when you need them?"
Neither of these men will be paid by taxpayers to "protect and serve" any longer, so no one can say the protests in Ferguson accomplished nothing.