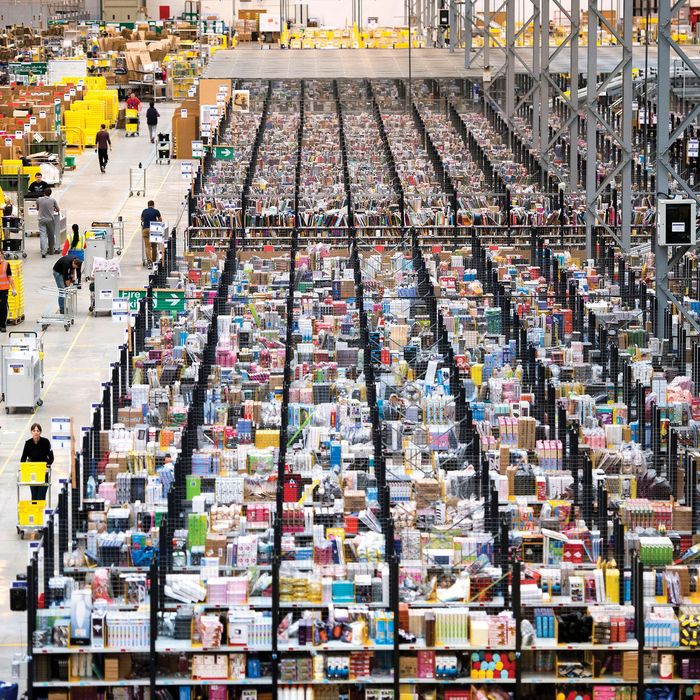 As Circuit City, Borders, or any number of other defeated corporations will tell you, competing with Amazon is hell. Jeff Bezos's e-commerce empire is a muscled behemoth, with $75 billion in annual sales, Genghis Khan–size ambitions, and the leverage to wrangle extreme concessions from its suppliers. What Amazon does, it does very well, and that includes steamrolling companies that get too close to its turf.
"Amazon has such a lead at this point that trying to eat away at their core business is pretty challenging," says Scott Tilghman, a senior analyst at B. Riley. Challenging, but not impossible. Like knights circling a dragon looking for patches of soft skin between the scales, smaller, newer companies have spent years scanning Amazon's business model for weak points. And now, increasingly, they're finding them. Here are a few ways competitors will try to chip away at Amazon's dominance in the months ahead.
Win at discovery. Amazon's recommendation system works best for people who already know what they want to buy. Go to Amazon for a broom, and you might be persuaded to buy a dustpan, too, but you're not likely to walk away with a wrap dress.
That's because Amazon is relatively weak at what e-commerce types call discovery: helping consumers find things to buy through browsing, in the manner of a catalogue.
One start-up that's hoping to exploit this weakness is Spring, a new shopping app backed by a slate of A-list investors, where more than 200 fashion brands post their wares. Spring's main advantage is that it is prettier than Amazon, with a sleek Instagram-­like interface that allows users to browse outfits from high-end brands like Rebecca Minkoff and Alice + Olivia and make purchases directly from the retailer with a few taps.
"I probably spend half my disposable income on Amazon, but I do think there are weaknesses," says Spring co-founder David Tisch. "They're better at data and recommendations than anyone, but they're not good at impulse. We focus on: How do you find things you didn't know you were looking for? How do you get inspired?"
Fight power with speed. Amazon has spent untold billions honing the process of getting packages out of its warehouses and onto your doorstep as speedily as possible. But in the age of instant gratification, that system may still be too slow.
A wave of same-day-delivery start-ups, including WunWun, Postmates, and Instacart, are offering faster shipping by sending couriers to pick up items at local stores, rather than sending them from centralized warehouses. Uber is also testing a "Corner Store" service, which allows users of the car-hailing app to have toiletries and other basics brought directly to them. And Google is spending major coin building out its Google Shopping Express service, which has struck up partnerships with retailers like Barnes & Noble to try to shrink delivery times. (Amazon also offers same-day delivery service in some cities, but for once, it doesn't have a sizable head start.)
Enlist allies. Brick-and-mortar retailers, Amazon's original victims, are also banding together to fight back. One company teaching them how is eBay, which is helping local businesses build out their digital infrastructure in exchange for a small cut. Retailers hope the approach will minimize showrooming, the dreaded practice of customers browsing in stores and then ordering from Amazon. For its part, eBay is betting that the hybrid shopping model will be more popular than going digital-only.
"Humans have five senses, and shopping online only engages one of them," says Steve Yankovich, eBay's vice-president of innovation and new ventures, of the idea's appeal. "You want to be able to sit on the chair and smell the leather."
eBay's pitch sounds quaint, but about 94 percent of retail sales in the U.S. are still made in physical stores, according to the Department of Commerce. That fact might be why online outposts like Harry's, BaubleBar, and Rent the Runway are all opening physical retail locations to supplement their digital domains.
Use mobile as a wedge. Mobile shopping is expected to account for more than half of e-commerce sales by 2018, according to Forrester. That's a big problem for Amazon, which doesn't have the power to point customers toward purchases on mobile devices like Apple and Google can.
"On the desktop, the browser was actually fundamentally a neutral, unmediated, transparent platform. A smartphone is not," says Benedict Evans, a partner at Silicon Valley venture-capital firm Andreessen Horowitz. "Mobile platforms can create entirely new ways of discovering products."
It's partly to avoid this fate that Amazon released a phone of its own last month—the Fire, which was intended to keep customers ensconced within Amazon's virtual mall. But so far the Fire has been a flop.
Retailers have seized the opening in mobile shopping by cozying up to already popular apps to get their products on smartphones. Uber opened its platform to businesses like Starbucks and United Airlines, PayPal cut deals with companies like Home Depot and Foot Locker, and Facebook is testing a "buy" button that allows retailers to sell their products from within the social network. More partnerships like these are inevitable in the months ahead.
Target the extremities. Amazon's biggest strength is its size and idiosyncratic structure—it does so many things, from buying original TV shows to building in-house video games, that it's basically impossible to replicate the entire thing from scratch. But doing everything also makes Amazon vulnerable to smaller, nimbler start-ups carving off chunks of its business.
One e-book start-up, Oyster, has already drawn return fire from Amazon, which launched an all-you-can-read e-book subscription service to compete with Oyster's $9.95-a-month "Netflix of books" service. Another start-up, BookLamp, which recommends books to users based on a Pandora-­style analysis, was acquired by Apple in July in hopes of turning it into an Amazon-killer.
Still, wresting back books will be hard, considering Amazon's enormous advantage. (Kindles reportedly account for six out of ten e-book sales in the U.S.) The bigger opportunities will be in areas where Amazon's infrastructure hasn't become ubiquitous: namely, streaming media. There's Netflix, of course, as well as Spotify, Pandora, Hulu, and Beats Music—all of which are outdoing Amazon by some measure—but more competitors are surely on the way.
Another area of potential weakness is Amazon Web Services, the company's cloud-computing unit, which powers sites like BuzzFeed and Pinterest and produces an estimated $4 billion in yearly revenue for Amazon, according to analysts. AWS has been challenged of late by Google and Microsoft, both of which have been slashing prices in their own cloud businesses to pick off Amazon's customers. Amazon doesn't break out specific numbers for AWS, but the business segment that includes cloud services just reported its lowest year-over-year growth rate since 2010.
Let the beast flail, and be patient. There's a slim chance that a big, unforeseen problem could take down Amazon, like an antitrust lawsuit or a sudden change in leadership. But more likely, the process of unseating Amazon will be years, or even decades, long.
"It's the Sears Roebuck of the 21st century," says Evans of Andreessen Horowitz. "Amazon is a platform company, and it's kind of tough to take an ax to the whole thing."
And yet Sears Roebuck withered, in part because it made the mistake of over-­diversification. In the '80s, when Sears already had a catalogue in every American home, it tried to branch out into real estate and financial services, buying up Coldwell Banker and stock brokerage Dean Witter Reynolds. Those expansions went nowhere, consumer habits shifted, and eventually the company was on its heels.
There's some evidence that Amazon is overextending itself in similar ways. It just unveiled Amazon Local Register, a point-of-sale app that is meant to compete with companies like Square to replace cash registers and credit-card processors at small businesses (and which few Amazon watchers are optimistic about). It's pouring money into original content for Prime Video, and pet projects like the Fire are sucking up vast resources from the core business. It's also reportedly considering starting its own shipping service, an expensive proposition that would have it competing with FedEx and UPS.
Some of these bets may work out, but many won't. The $100 billion question is who runs out of money and patience first: Amazon, or everyone else.
*This article appears in the August 25, 2014 issue of New York Magazine.