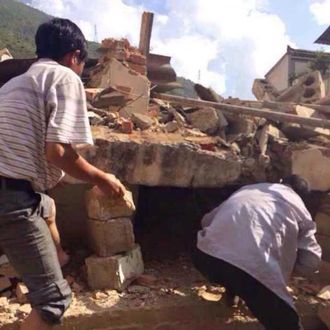 A 6.5-magnitude earthquake struck southwest China's Yunnan province at 4:30 p.m. on Sunday, killing at least 367 people, injuring more than 1,800 others, and destroying 12,000 homes, according to the state-run Xinhua News Agency. Xinhua reports that the casualties mostly came from Ludian County, where the earthquake was centered, and Qiaojia County. Meanwhile, dozens of people have been reported missing, which means the death toll will likely rise. The 6-mile-deep tremor, which could also be felt in the neighboring provinces of Guizhou and Sichuan, is the strongest to hit the earthquake-prone Yunnan in 14 years. 
Ma Liya, who lives in Ludian County, told Xinhua that her neighborhood currently looks like a "battlefield after bombardment." Another resident said that driving during the earthquake felt like "sailing on a boat." 
According to Xinhua, 2,500 troops have been sent to provide relief to the mountainous, mostly agricultural region. 600 police officers and rescue workers from the city of Zhaotong were also sent to the earthquake site to help with the recovery effort.

This post has been updated throughout.