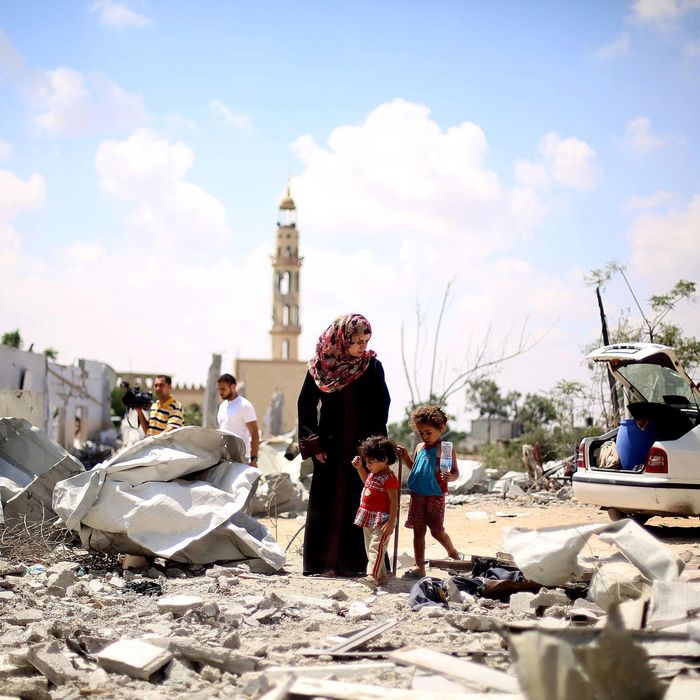 Photo: Mustafa Hassona/Anadolu Agency/Getty Images
Just a day after the failed 72-hour cease-fire between Israel and Hamas was supposed to end, they have decided to give it another go. If all goes according to plan, both sides will lay down arms for three days beginning on Tuesday morning, in an agreement brokered by Egypt.
Egypt has been a key partner in peace talks, working with U.S. Secretary of State John Kerry and U.N. Secretary General Ban Ki Moon to quell the violence erupting just across its border. But the Egyptian government, now led by Abdel Fattah al-Sisi, has been less sympathetic to Hamas demands than previous rulers because of the group's historic roots with Egypt's Muslim Brotherhood.
The previously planned cease-fire ended less than two hours after it began, when Hamas militants fired on Israeli troops in the south of Israel. A series of misunderstandings over an Israeli soldier thought to be kidnapped then resulted in more 100 civilian casualties in Rafah. Earlier today, Israel allowed for a seven-hour humanitarian window after announcing it had finished destroying what remained of Hamas's known network of tunnels.
Assuming nothing deal-breaking happens in the meantime, the new cease-fire is scheduled to start at 8 a.m. local time on Tuesday. We'll keep our fingers crossed.