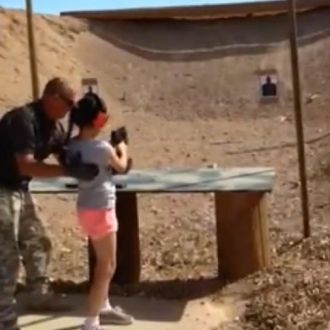 A young girl sporting pink shorts and a long braid fatally shot her gun instructor on Monday, after the weapon she was firing recoiled in her hands. Charles Vacca, 39, died at a Las Vegas hospital that night.
The 9-year-old child, whose name has not been released, was on vacation with her parents when they stopped by a gun range. The range allows children as young as 8 to shoot weapons, provided that they are accompanied by an adult.
But in a fatal turn of events, someone decided to give her an Uzi — which is classified as a type of submachine gun — rather than a more manageable weapon. Firearms safety expert Ronald Scott told the Washington Post that most ranges will have instructors maintain a hold on the weapon because, "You can't give a 9-year-old an Uzi and expect her to control it."
A video of her shooting lesson, taken by the proud parents, shows the instructor coaching her on firing a single shot before turning it to auto and bringing on a spray of bullets. The cell-phone video doesn't show what happens next.
Vacca, the instructor, was shot in the head at least once. This was apparently the first accidental shooting in the range's 13-year history.
And that little girl? Well, she's probably a gun-control advocate for life.