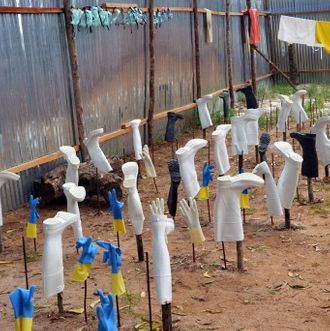 A picture taken on July 24, 2014 shows protective gear including boots, gloves, masks and suits, drying after being used in a treatment room in the ELWA hospital in the Liberian capital Monrovia. An American doctor battling West Africa's Ebola epidemic has himself fallen sick with the disease in Liberia, Christian charity Samaritan's Purse said on July 27.
Photo: ZOOM DOSSO/AFP/Getty Images
The leaders of Liberia and Sierra Leone won't be jetting off to the U.S.-African Leaders Summit alongside their delegations next week. Instead, the duo will be dealing with the still-expanding Ebola crisis, which has already claimed the lives of over 700 people across West Africa. Priorities? Check-plus. Meanwhile, Guinea president Alpha Condé — whose country has had more Ebola deaths than either of the other two — has not yet made a decision about attending. If there's ever a good reason to bail on an international summit, this just might be it.