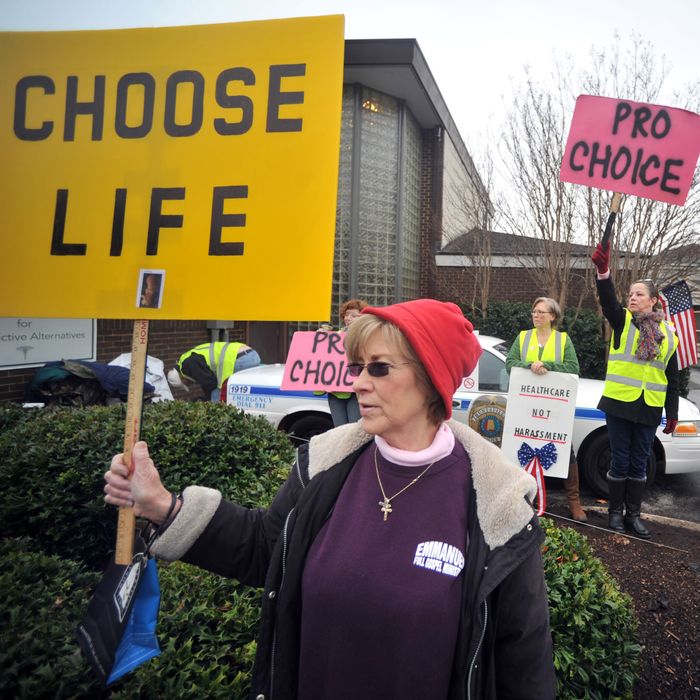 People supporting and opposing abortion demonstrate outside of the Alabama Women's Center for Reproductive Alternatives in Huntsville, 2013.
Photo: Sarah Cole/AP/AL.com
A federal judge served up a nasty surprise for opponents of abortion in Alabama on Monday, finding that the state's repressive law is unconstitutional because it creates "an impermissible undue burden" on women seeking abortions. Even worse, he compared it to gun rights.

Judge Myron Thompson decided the ruling based on Planned Parenthood v. Casey, a 1992 case that also dealt with abortion restrictions. Like North Dakota, Texas, and Wisconsin, Alabama passed a law in 2013 that would require abortion providers to meet a slew of new requirements or risk having their practice shut down, among them having admitting privileges at a nearby hospital. Alabama gets an F rating from NARAL and has five abortion clinics; the law would have shut down three of them because the doctors commute from out of state and wouldn't be able to fulfill that requirement.
On face value, these laws appear to be safeguarding the health of a woman seeking abortions. But in reality, advocates argue, it is practically impossible for doctors to meet these requirements, and they have no practical effect on the safety of patients. A woman can be treated at any hospital, regardless of her abortion provider's affiliation.
Judge Thompson agreed. In a drawn-out gun rights metaphor, he claimed that for both the 2nd amendment and abortion, regulation should not be too heavy or too light, but just right. Alabama's laws, on the other hand, would unjustly strand just a portion of the state without access to an abortion provider.
Now Thompson's ruling will head up to the 11th Circuit Court of Appeals, which covers Alabama, Florida, and Georgia. A Supreme Court date could be somewhere down the line.

According to the Guttmacher Institute, more abortion restrictions were passed between 2011 and 2013 than in the ten years before that put together.