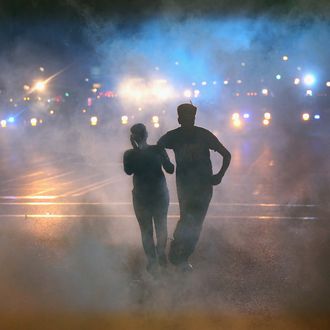 Tear gas.
Photo: Scott Olson/2014 Getty Images
The National Guard is coming; Amnesty International is already there. With no sign of police or protesters easing up outside of St. Louis, the human rights group has taken "unprecedented" domestic action, BuzzFeed reports, by deploying a 13-person team on the ground in Ferguson. "We criticize dictators for quelling dissent and silencing protestors with tactics like curfews, we'll certainly speak out when it's happening in our own backyard," said Steven W. Hawkins, Amnesty International's executive director in the U.S."The people of Ferguson have the right to protest peacefully the lack of accountability for Michael Brown's shooting."
Not that the observers and researchers could do their jobs in the weekend's chaos and crackdown. "It was very difficult to see anything once the curfew went into effect last night," one of the team members told BuzzFeed, calling it "impossible" to tell whether the police were using excessive force.

"Law enforcement, from the FBI to state and local police, are obligated to respect and uphold the human rights of our communities," said Hawkins in an earlier statement. "The U.S. cannot continue to allow those obligated and duty-bound to protect to become those who their community fears most."
Amnesty has issued the following recommendations to address the situation:
• A prompt, thorough, independent, and impartial investigation into the shooting of Brown must take place. Brown's family must be kept informed throughout the investigation. Under international law, police officers suspected of having committed unlawful acts must be held to account through effective investigation, and where warranted, prosecuted.

• All police departments involved in policing the ongoing protests in Ferguson in response to Brown's death must act in accordance with international human rights standards. Any human rights abuses in connection with the policing of protests must be independently and impartially investigated, and those responsible held accountable.

• A thorough review of all trainings, policies, and procedures with regards to the use of force and the policing of protests should be undertaken.
Meanwhile, Missouri Governor Jay Nixon has since called for the National Guard to "help restore peace and order and to protect the citizens of Ferguson." But not even the Obama administration knew about his request. "The White House did not know they were sending it in," an official told BuzzFeed on Monday.