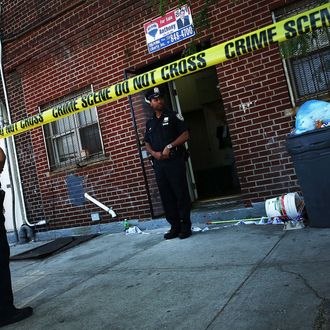 Photo: Spencer Platt/Getty Images
A Bronx woman licensed by the state to run a day-care center out of her apartment was charged on Sunday in the death of a 19-month-old boy in her care. Cardell Williamson died on Friday afternoon of blunt force trauma to the head and torso, and also suffered severe burns on his arm and face. According to court documents, Athena Skeeter, 40, told police that he sustained the injuries while they were "wrestling." "I flipped him on the bed," she explained. "I lifted him by one arm and one leg and threw him to the floor." Skeeter said that once the boy was on the floor, she stepped on him but "didn't use full force." "I then threw my son on top of Cardell and stepped on his stomach three times," she said. "Cardell acted different after that."
Skeeter claims Cardell started vomiting and couldn't walk, so she put him in the bathtub and splashed cold water on his face. She told police that she left the water running as she quickly stepped out of the bathroom to get a chair, and when she returned the shower was filled with steam and Cardell's head was in the water. Skeeter said she asked her mother, who lives with her, for help, and gave Cardell CPR before calling 911. He was pronounced dead at the hospital.
Cardell's father, Carlyle Williamson, told the New York Times that he recently won custody of his son and had to put him in day care after finding a landscaping job three months ago. He went to Skeeter because she lived on his block and he had seen her taking care of children "for years." He had just started looking into other child-care options after Cardell came home with a series of troubling injuries, including bruises, a black eye, and a fat lip. "I said, 'What happened to him now?'" Williamson said. "She said, 'Oh, he slipped on the kitchen floor.'"
"He was my heart and my soul," Williamson said as he left the hospital. "I don't know what I am going to do!" Skeeter, who has no prior arrests, was charged with manslaughter and reckless endangerment, and was held without bail.