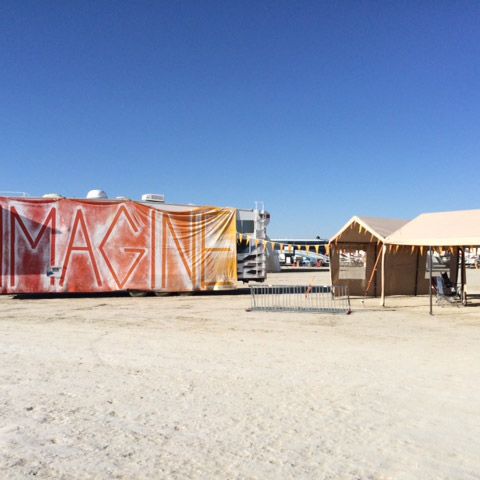 Here in Black Rock City, they call it, simply, "that Times article."
This year's Burning Man was still a week away when the story in question, a column by Times writer Nick Bilton, criticized the gaping divide between the festival's decommodified, no-money-allowed ethos and its appeal among rich Silicon Valley executives, who stay in luxury camps, eat gourmet meals, and are tended to by staffs of "sherpas" while ostensibly roughing it on the "playa" in Nevada's Black Rock Desert. Burning Man has become "the annual getaway for a new crop of millionaire and billionaire technology moguls," Bilton wrote, "many of whom are one-upping one another in a secret game of I-can-spend-more-money-than-you-can."
Bilton's wasn't the first article about Burning Man's moneyed elite, but it got deeply under the festival's skin. Within an hour of arriving at Burning Man, I'd heard at least four people mention it — most objected to the way the Times had portrayed the festival as a rich man's bacchanal.
"I just hate that now, when my friends hear I'm going to Burning Man, they say, 'Oh, that thing for obnoxious tech billionaires?'" one non-tech attendee told me.
Part of Bilton's offense, in these people's eyes, was painting in broad strokes — it's hard to capture every nuance of a 70,000-person festival, even if you do hit on some of the overarching motifs. And partly, it's because Burning Man regulars want to cast the festival as a social leveler — once you get inside the gates, they say, you're all equals, no matter how many sherpas are massaging lotion into your desert-worn feet.
I got to Burning Man yesterday afternoon, after a five-hour drive and a four-hour wait in line at the gate, and felt that communitarian spirit in action when a shirtless middle-aged man wearing a pink tutu stopped my car, ordered me to get out, and proceeded with leathery arms to give me a bear hug.
"You're no longer a virgin," he said. "Welcome home."
It doesn't feel like home here, though. For starters, I'm for-real roughing it, camping in a $39 tent with a non-working flashlight and one or two fewer blankets than would have been ideal. Then there's the sheer exoticism of the festival itself — in half a day here, I've seen a nudist tiki bar, a pop-up roller derby, a fire-twirling class, and a school bus decorated to look like a sheep. (If you're still wondering what Burning Man is, it's essentially a giant, art-filled carnival where people dressed in costumes ride around on bikes and party at hundreds of themed mini-camps. Picture summer camp, but with less archery and horseback riding, and more dubstep and MDMA.)
Part of my anxiety of being a first-time Burner is that there's a ton to take in — even veterans have assured me that it takes a day or two to get used to the festival's contrived social norms and weird jargon. (MOOP means "matter out of place"; directions on the playa are given using times and letters instead of addresses.) But part of it is the money Bilton wrote about — it's everywhere, despite what Burners would want you to believe. Immediately upon entering, you see the gigantic RVs that pump air-conditioning 24/7, the elaborate art cars that cost many tens of thousands of dollars to build and operate, and the expensive costumes that are custom-made by their wearers months in advance. One friend of mine, also a first-timer, told me that getting ready for Burning Man and traveling from New York had cost her thousands of dollars, in part because she felt peer-pressured to camp the same way as the rich tech executives around her.
"This is the most expensive vacation I've ever been on," she said.
The best counterargument the Burners have against Bilton's characterization of their festival as a gilded playground for Silicon Valley execs is that Burning Man contains multitudes. I've seen plenty of twentysomething tech workers here so far, but also a lot of grizzled playa veterans, European tourists, doctors, lawyers, and even some families with small kids. Still, Burning Man does count among its regulars a sizeable group — perhaps even a plurality — of the kinds of tech elites Bilton lampooned.
After dinner at my camp last night, during the part of the early evening when everyone gets dressed to go out and dance, I saw an acquaintance who works at Google. He had ditched his flip-flops and cargo shorts for a leather vest and tight pants. I greeted him, we hugged (nobody shakes hands at Burning Man), and then the Googler apologized. He was running late.
"Sorry I can't stop and chat," he said. "I've got to go to a friend's bachelor party. He's getting married on the playa. And then we're dropping acid."