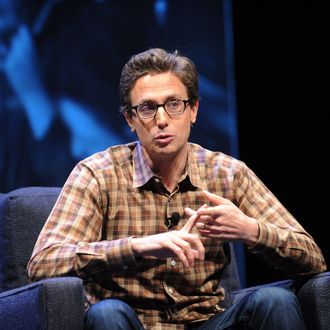 Photo: Brad Barket/Getty Images
On Tuesday, Gawker reported that over 4,000 BuzzFeed stories had quietly disappeared. A spokesperson for the site said that the posts had been deleted because they no longer met the company's editorial standards. Tens of people were outraged that a major media company that has quickly grown to become the 44th most-popular website in the U.S. refused to adhere to basic journalistic tenets, and demanded answers. Now, BuzzFeed CEO Jonah Peretti finally has a response for all you haters out there: Those posts were written before BuzzFeed did journalism, so deleting them doesn't count.
In an interview with Slate, Peretti clarifies that when BuzzFeed was first founded in 2006, its intention was never to become the media behemoth it is today. Instead, it was a tech company working to better understand what makes content go viral on the web. Back then, a handful of staffers also created content using the tools BuzzFeed was building, and those posts have been live ever since. Of course, now that BuzzFeed has become so successful and readers hold it to a higher standard, they wanted to clear the site of content that no longer met its editorial standards.
Peretti argues that BuzzFeed didn't become a media company until it hired Ben Smith to be its editor-in-chief in 2011, and since then it's tried to operate under the same guidelines other journalistic enterprises do. Will Oremus at Slate explains:
Journalistic organizations are supposed to stand behind everything they write, even if it was written years ago. They don't just delete things because they're no longer proud of them. (In the print era, of course, they couldn't even if they wanted to.) But Peretti believes that BuzzFeed prior to Smith's hire simply was not a journalistic organization. It was a tech company.
By describing these old stories as just "technically broken, not sourced to our current standards, not worth improving or saving because the content isn't very good," Peretti conveniently sidesteps the more serious of issues of copying and plagiarism that have long dogged BuzzFeed. Who knows how many of the stories were actually taken down because they appropriated too much from other sites? He also doesn't explain why this cleanup operation didn't happen until two and a half years into the Ben Smith era of responsible journalism. And BuzzFeed's oft-changing self-definition as a "media company" or a "tech company" is a convenient bit of shape-shifting. Just a few days ago, when it announced a new funding round of $50 million, BuzzFeed was still a tech company. When it's gobbling up award-winning journalists and benefiting from the access and cache granted to a news corporation, it's a media company.
Ultimately, this episode will probably be quickly forgotten. Becoming respectable is not the sexy part of "disruption," but it is an inevitable stage: First, cross lines older companies won't to gain a competitive advantage; once on top, clean up after yourself. For another example, see Gawker's recent pledge to start being nice.