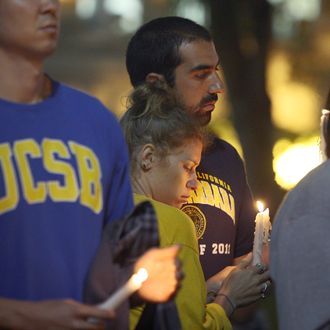 Photo: David McNew/2014 Getty Images
Before Elliot Rodger went on a shooting rampage in May, killing 6 UC Santa Barbara students and wounding 13 other people, his parents were so concerned about his mental health that they went to the police. However, after speaking to Rodger and deciding that he wasn't a threat to himself or others, officers said there was nothing else they could do. On Wednesday, California's State Senate advanced a bill inspired by the Isla Vista shooting that would allow family members or law enforcement to petition the courts for a restraining order against people who show signs of violence or mental instability. Those found to be dangerous would not be allowed to possess firearms for 21 days. "It's an opportunity to take guns away from people who are in moments of distress," said Democratic state Senator Hannah-Beth Jackson.
According to the Associated Press, Connecticut, Indiana, and Texas already have laws that let police seize guns from people believed to be dangerous, but the California measure would be the first to allow family members to petition the courts. The bill was modeled after laws that temporarily prohibit people with domestic violence restraining orders from owing guns.
The bill passed the Senate 25-8, and will now head back to the Assembly for a final vote. The eight Republicans who voted against the bill said it violates multiple constitutional rights, from the right to bear arms to the protection against unreasonable search and seizure.
Opponents also said the way to solve the problem is keeping mentally ill criminals locked up, not restricting gun ownership. "There are some who will use every tragedy to take guns away from law-abiding citizens," said Republican state Senator Jim Nielsen. "Let's not release into our community without treatment thousands of mentally ill individuals." Supporters countered that Rodger, as well as the shooters in Aurora, Colorado, and Newtown, Connecticut, had no criminal record.
The parents of two Isla Vista victims were in Sacramento on Wednesday to push for the bill's passage. "Nothing can bring back the life of my son, but there are common-sense solutions that can help ensure other loved ones aren't killed by preventable gun violence," said Richard Martinez, who lost his 20-year-old son Christopher Ross Michaels-Martinez. "This bill will save lives and spare other families from suffering the anguish we experience each day."