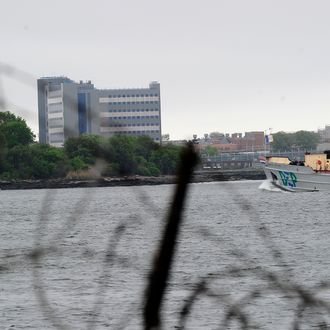 Photo: EMMANUEL DUNAND/2011 AFP
Earlier this month, the Bronx district attorney's office declined to press charges against Rikers Island correction officers accused of savagely beating two inmates, though the incident was referred for prosecution twice by the city's Department of Investigation and highlighted in a New York Times exposé. Now the Associated Press reports that the same goes for the three incidents in New York City jails during the past five years in which inmates were allegedly beaten to death. All three deaths were ruled homicides by the city medical examiner's office, but no one was ever charged with a crime.
Angel Ramirez, 50, died of numerous blunt-impact injuries in 2011, though guards said they only hit him once in self-defense. In 2009, Clarence Mobley, 60, was struck after hitting a guard with a meal tray. Per the AP:
An autopsy report said Mobley, who weighed 115 pounds, suffered a lacerated liver, three broken ribs, a bruised lung, scrapes and bruises on his back, buttocks, head and arms, and severe internal bleeding. He didn't get medical attention after the fight and was found dead in his cell 45 minutes later. His family settled a lawsuit over his death for $525,000.
Ronald Spear, 52, died of "blunt force trauma" in 2012 shortly after filing a lawsuit claiming he was being denied medication. His family settled a wrongful death lawsuit this year for $2.75 million.
Recent reports have said that owing to a culture of intimidation at Rikers Island, it's rare for such incidents to be reported, and even more unusual for guards to be charged. Prosecutors explained that in the death of Mobley, they didn't have enough evidence to bring charges, and they didn't think they could prove beyond a reasonable doubt that Ramirez's death was a criminal homicide. A Correction Department spokesman wouldn't comment on the specific cases, but said Correction Commissioner Joseph Ponte, who was recently appointed by Mayor de Blasio, thinks excessive force is "absolutely unacceptable and will not be tolerated on his watch."