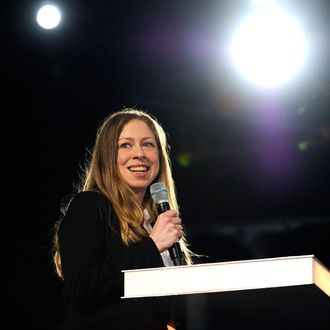 Photo: David Tulis/AP/Corbis
Kicking off the annual Labor Day Friday News Dump, Chelsea Clinton has announced, via People, that she will no longer pretend to be a reporter. The once (and future?) First Daughter has been a "special correspondent" for NBC News since 2011, when she was dubbed, following her debut, "one of the most boring people of her era." For the occasional feel-good segment or interview with the CGI Geico gecko, Clinton earned a reported annual salary of $600,000, or approximately $26,724 for every minute she was on-air.

She switched to a month-by-month contract earlier this year, allegedly because of her pregnancy and her mother's impending run for president, not because she was being paid an insane amount of money to do almost nothing.
But she just doesn't have time to occasionally appear on TV for a few minutes anymore and is departing, amicably we're sure, "to continue focusing on my work at the Clinton Foundation and as Marc and I look forward to welcoming our first child," Clinton told People.
"Chelsea's storytelling inspired people across the country and showcased the real power we have as individuals to make a difference in our communities," said NBC News senior vice president Alex Wallace. "While she will be missed, we look forward to working with her in the future."
A search for her recent work turns up "Oscar-Winning Actor Jeff Bridges Fights to End Childhood Hunger" and "Homework Diner Serves Up Education With a Side of Food" (a follow-up to the same story from last year), along with "Chelsea Clinton Pregnant: 'Marc and I Are Very Excited," "Chelsea Clinton: I'm Very Excited About First Child," and "'So Thrilled': Chelsea Clinton Announces Pregnancy."