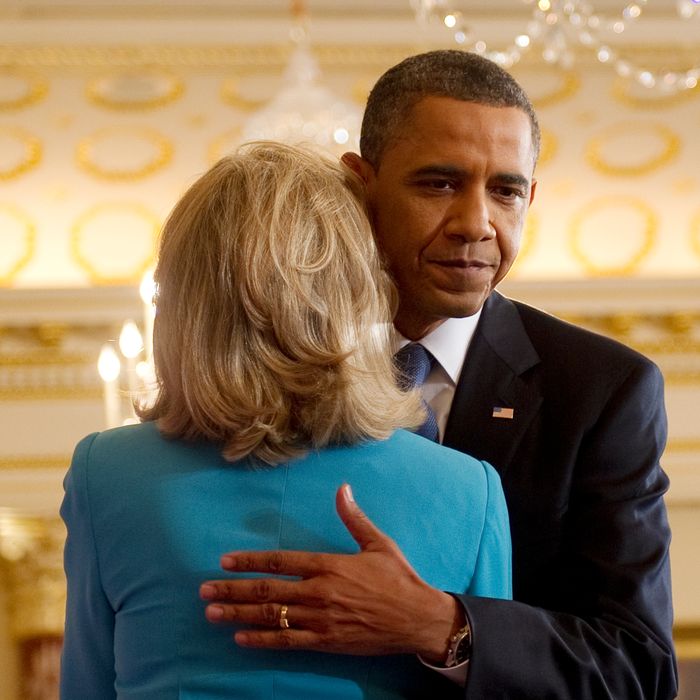 Photo: Jim Watson/AFP/Getty Images
In case you've missed the latest Clinton-Obama drama amid the droves of relentlessly depressing real news, here's a recap. At some point before the 2016 election, Clinton needs to put some distance between herself and the president. For some reason, she decided to start by criticizing his stance on Syria and the "don't do stupid stuff" foreign policy in an Atlantic interview published days after Obama ordered air strikes on ISIS militants. Then it emerged that Obama thinks the Syria criticism is "horseshit." While he made the remark before Clinton's interview was published, the Martha's Vineyard cocktail party both are expected to attend on Wednesday night still promised to be rather awkward — which is why Clinton's camp just released a lengthy statement on her plan to "hug it out" with the president.
You can read the whole statement below, per Politico, if you don't mind spoiling this week's installment of The Real Housewives of Martha's Vineyard:
"Secretary Clinton was proud to serve with President Obama, she was proud to be his partner in the project of restoring American leadership and advancing America's interests and values in a fast changing world," said the statement, shared with POLITICO. "She continues to share his deep commitment to a smart and principled foreign policy that uses all the tools at our disposal to achieve our goals. Earlier today, the secretary called President Obama to make sure he knows that nothing she said was an attempt to attack him, his policies, or his leadership.

It continued: "Secretary Clinton has at every step of the way touted the significant achievements of his presidency, which she is honored to have been part of as his secretary of state. While they've had honest differences on some issues, including aspects of the wicked challenge Syria presents, she has explained those differences in her book and at many points since then. Some are now choosing to hype those differences but they do not eclipse their broad agreement on most issues. Like any two friends who have to deal with the public eye, she looks forward to hugging it out when … they see each other tomorrow night."
Fortunately, it sounds like this overblown feud will be resolved without any former, current, or future presidents flipping a table at each other.