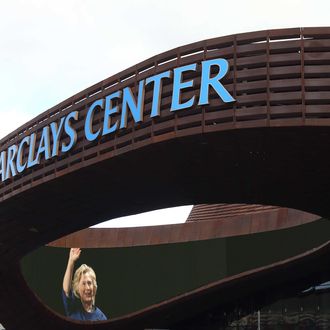 Bill de Blasio's plan to bring the 2016 Democratic National Convention to Barclays Center has some very influential — and potentially relevant — backers. According to the New York Times, the mayor "made sure he had the Clintons' blessing" before throwing Brooklyn into the running (with this corny video). It's almost like they expect to be there or something.
Madison Square Garden hosted Bill Clinton's nomination in 1992, and one could get the sense that Hillary feels — what's the word? — inevitable. Both Clintons "are said to be encouraging Mayor Bill de Blasio's efforts to bring the convention back to New York City, this time to Brooklyn, that haven of liberal cool," the Times reports, with the caveat "that Brooklyn could come across to a national audience as a progressive parody." Really? Brooklyn?
De Blasio, a veteran of Hillary's campaign for Senate, has other Clinton insiders working with him on the borough's pitch, and reportedly said it would be a "perfect scenario" for Hillary to accept the nomination in New York, referring to it as a "homecoming." One of Brooklyn's main rivals for the convention? Former Pennsylvania Governor Ed Rendell, the Times says, another Clinton ally, of course.
"I don't think Bill and Hillary Clinton could possibly be that politically naïve," Mr. Rendell, who also served as Philadelphia's mayor, said in an interview. "New York is a solidly blue state that never votes Republican. Pennsylvania is a swing state whose margins are closer and closer. Where would you go?"
Either way, the Clintons win ( … they assume).