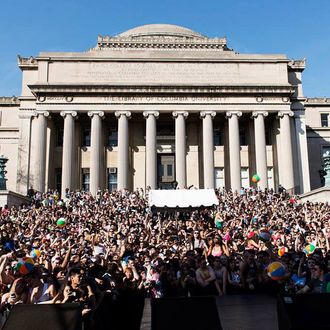 Photo: Bacchanal - Columbia University/Facebook
Back in April, a group of Columbia students filed federal charges against the university that alleged widespread mishandling of sexual assault cases and mistreatment of victims. Now Columbia is finally taking appropriate measures to address the insidious rape culture flourishing across its campus: In a press release obtained by the Columbia Lion, administrators announced that they're canceling a biannual concert scheduled for September, called the Bacchanal, in order to solve that pesky campus sexual assault problem.
Despite major pushback from student groups, four undergraduate deans made the executive decision to cancel the September 14 event, citing vague concerns about campus safety, according to a press release signed by the Bacchanal Presidents and Concert Chairs and leaders of other student groups. Last Spring, a Columbia sophomore named Katie Best-Richmond penned a Columbia Spectator op-ed titled "Bacchanal is not invitation for sexual harassment" that attempted to shed some light on "the issues of sexism and harassment that are present both at Columbia and in the world." In the op-ed, Best-Richmond noted that the event itself isn't to blame for the inappropriate behavior of students, but is instead a symptom of a larger problem campuswide.
As student groups like the Coalition Against Sexual Violence have argued, canceling student events does little to actually address and combat rape culture.
"We feel strongly that this is a band-aid, not a solution, in the fight against sexual assault on Columbia's campus," reads a release penned by the group. "The goal of our work is and has always been to create a culture of consent on campus which makes all events and spaces safe for students — cancelling Bacchanal sends the false message that the concert is the cause of sexual violence."
Meanwhile, the Bacchanal committee still has to pay the concert's unnamed artists $55,000, despite the cancellation.
Students disappointed in Columbia's decision may help themselves to a slice of Sexual Violence Prevention cake.
This post has been updated to reflect the fact that the press release was signed by only some of the members of the Bacchanal committee.