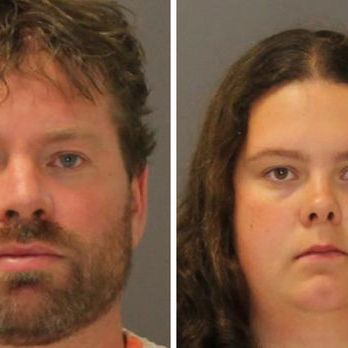 Two arrests have been made in the abduction of two Amish sisters who disappeared from their family's Oswegatchie, New York, farm stand on Wednesday. ABC News reports that an upstate couple — 25-year-old Nicole Vaisey and 39-year-old Stephen Howells II — were taken into custody on Friday night and charged with "two counts of first-degree kidnapping, indicating that they intended to physically harm or sexually abuse the girls." Vaisey and Howells's victims, 12-year-old Fannie Miller and 6-year-old Delila Miller, returned home on Thursday night after running away from their captors and seeking help at a nearby house. 
Jeff and Pam Stinson told ABC News about finding the "barefoot, cold, wet and hungry" children on their doorstep. Because the Amish don't use photography, only a sketch of Fannie had appeared on the news, but the sisters' attire made them pretty easy to recognize:
The Stinsons fed them watermelon and grape juice and the girls were so hungry they couldn't stop eating the watermelon.

"They ate that watermelon in 30 seconds. It was fast," said Jeff Stinson.

Jeff Stinson knew exactly where the two girls lived because he had bought corn from the elder girl before at their vegetable stand.
St. Lawrence County Sheriff Kevin Wells said that the Miller sisters did not know their abductors, but that the kidnapping had been planned in advance. "The girls have been victims of crimes. That's the only detail we'll give," said Wells. He added that the information Fannie and Delila provided about their ordeal was "instrumental" in making the arrests and suggested that the girls saved other children from being abused. "There was the definite potential that there was going to be other victims from these two," Wells said. The New York Times reports that Howells, a nurse, and Vaisey, a dog-walker, do not have previous criminal records.