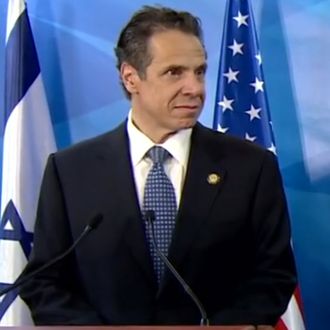 Governor Andrew Cuomo and New York state legislative leaders kicked off the New York-Israel Unity Delegation's tour of Israel on Wednesday with a press conference alongside Prime Minister Benjamin Netanyahu. The tour comes as tensions in the region have hit a recent high: Israel and Hamas are currently engaged in a temporary cease-fire while officials negotiate.
"Israel is going through a very difficult time and that's precisely why we're here," Cuomo said at the conference. "We want to stand shoulder to shoulder with Israel. We want to stand in solidarity with you."
As Capital New York notes, the Israeli tour is a rite of passage for New York gubernatorial candidates hoping to gain support for reelection.