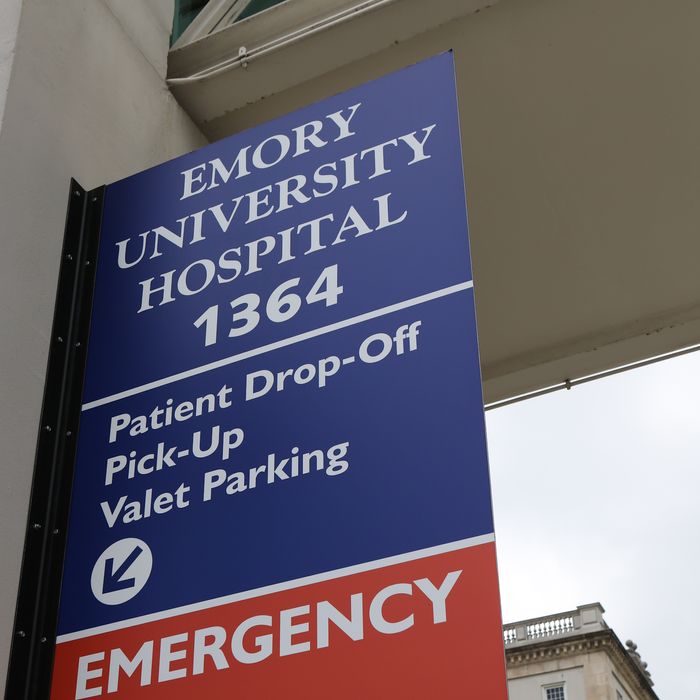 Photo: Jessica McGowan/2014 Getty Images
Dr. Kent Brantly, one of the two American aid workers who contracted the Ebola virus while stationed in Liberia, has arrived in the United States for treatment. The New York Times reports that after landing at Marietta, Georgia's Dobbins Air Reserve Base in a "private air ambulance," Brantly was placed in a regular ambulance and driven (with a police escort) to Atlanta's Emory University Hospital. The 33-year-old father of two will be housed in an isolated unit specifically designed for patients with dangerous infectious diseases, which Emory built with the help of the nearby Center for Disease Control over 10 years ago. According to the CDC, Brantly's arrival in Georgia marks the first time that someone with Ebola has been brought to the U.S. The other American infected with Ebola, Nancy Writebol, is expected to join Brantly at Emory early next week. 
Officials are working hard to assure people that Brantly and Writebol will not spread Ebola to their fellow Americans. "The patients will be escorted throughout by specially and frequently trained teams that have sufficient resources to transport the patients so that there is no break in their medical care or exposure to others," Pentagon spokesman Rear Admiral John F. Kirby told the Washington Post. The disease, which has already killed 729 people in West Africa, causes flulike symptoms, the breakdown of kidney and liver function, and internal and external bleeding. It is fatal in up to 90 percent of cases, though people who receive proper treatment have a survival rate that is closer to 60 percent. "It's important that we do not let fear of the unfamiliar overtake our reasoned approach to any infectious disease control," said CDC spokeswoman Barbara Reynolds. 
Meanwhile, Emory seems almost excited to make use of its special facilities. Dr. Bruce Ribner, the head of the unit, told CNN that two of his nurses called off their vacations in order to participate in Brantly and Writebol's treatment. "As I came in this morning, I had people congratulating us for accepting these patients," Ribner said.
He went on to explain that Emory would be providing what he called "supportive care," which consists of "carefully tracking a patient's symptoms, vital signs and organ function and taking measures, such as blood transfusions and dialysis, to keep him or her as stable as possible." "We just have to keep the patient alive long enough in order for the body to control this infection," he explained. In the meantime, Brantly and Writebol will be separated from healthy people by a plate-glass window, and communication with non-medical personnel will mostly happen via intercom and telephone.
So, for now, it seems that Donald Trump and those who share his concerns don't have much to worry about. At the very least, it seems that the people in charge of handling Ebola's new American presence are being significantly more careful than the CDC was with that anthrax.