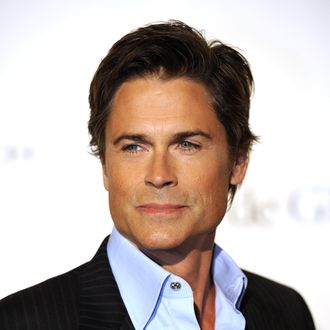 Yes, he SOUNDS intelligent…
Photo: FRED DUFOUR/AFP/Getty Images
As you may have heard, Burger King is purchasing the Canadian doughnut chain Tim Hortons. The news has alarmed Rob Lowe, who sees it as "a good example of how high tax rates kill business and, ultimately, American jobs."
Lowe is not the person you should be turning to in order to understand U.S. corporate tax policy. But in case he is, let us explain why he is wrong.
There are two possible interpretations of what this deal means. The first is that it's simply a normal merger, giving a burger joint some tastier breakfast options. Burger King is technically moving its headquarters to Tim Hortons's headquarters in Ontario, but this is merely to appease Canadian regulators, who have their country's characteristic inferiority complex and might not look kindly on their proud national symbol moving its headquarters south.
A second interpretation is that Burger King is engaged in a "tax inversion" — it's buying a foreign firm, and technically locating its headquarters there, without actually moving its operations overseas. It's a paper move in order to enjoy lower tax rates.
This interpretation may or may not be true. B.K. insists it will save very little in taxes. Even if it is true, it's crucial to note that Burger King is not moving its actual functions overseas. The whole point of a tax inversion is that you don't move your buildings and equipment — you just move your nominal headquarters.
This is especially and rather obviously true of a fast-food restaurant. You can build cars overseas and sell them to Americans, but you can't build burgers overseas and sell them to Americans. It's not even clear how Rob Lowe thinks burger-flipping jobs could be stolen by Canadians, but it isn't happening in this case.
Update: I probably should have disclosed that Lowe is my wife's longtime celebrity crush, so I was probably motivated here by Darwinian hostility against a romantic rival. If I was destined to fight with Lowe for my wife's love, I have selected the most favorable possible grounds to do so: A debate over tax policy.
Lowe conceded that the Burger King-Tim Hortons deal is not an illustration of corporate taxes costing American jobs, only that it is possible for corporate taxes to cost American jobs, an observation I do not dispute: