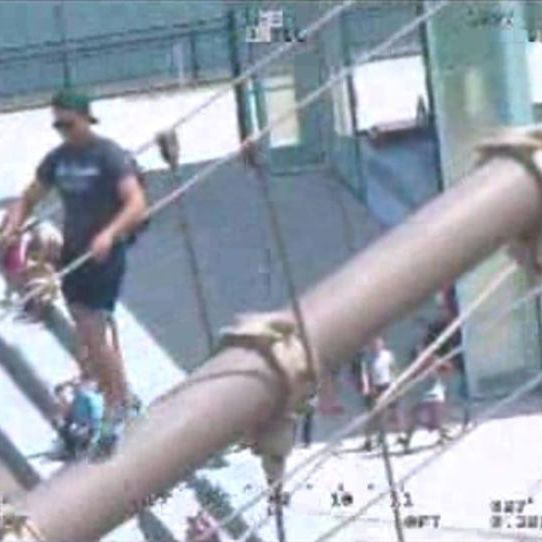 Last week, a 24-year-old jorts-wearing Russian tourist named Yaroslav Kolchin scaled the Brooklyn Bridge in broad daylight, took some photos with his iPhone, and was promptly taken into police custody. After missing his flight back to Moscow and spending a week behind bars, Kolchin appeared in a Brooklyn court on Friday to learn more about the legal consequences of his big American adventure.
According to prosecutor Lawrence Mottola, Kolchin's stunt cost the NYPD $7,407. (Extra officers, two boats, and a helicopter were all sent to the scene.) The New York Daily News reports that Mottola suggested that Kolchin plead guilty to trespassing, which carries a maximum sentence of 90 days, but the young thrill-seeker rejected the deal.
Judge ShawnDya Simpson offered a more creative solution: "Maybe have [Kolchin] clean a bridge, I don't know. If he likes the bridge so much, let him clean a bridge," she said, explaining that she felt "a bunch of community service" would be the most appropriate punishment for Kolchin's relatively harmless actions. That sounds reasonable to us! Unfortunately, it probably won't happen. "Judges have latitude when sentencing defendants to community service. However, there are well-established community service programs that are used as the norm," a court spokesman told the New York Post. A"court source" added, it's "highly unlikely" that Kolchin will end up scrubbing down the Brooklyn Bridge, since there's no program in place for doing so. Meanwhile, the 24-year-old is now out on $5,000 bail, which means he's free to continue enjoying New York City's many landmarks as he sees fit.