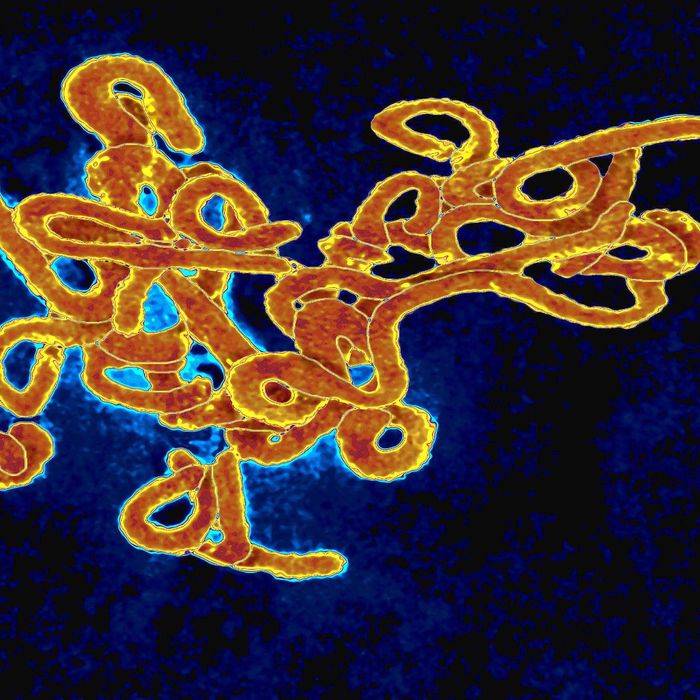 Stay away.
Photo: BSIP/UIG Via Getty Images
Deep breath. Okay, here it is: A man with a high fever and "gastrointestinal symptoms," who recently traveled to West Africa, is being tested for the Ebola virus at Mount Sinai Hospital in Manhattan, ABC 7 reports.
Keep breathing. (Update: It's likely not Ebola. See below for more.)
"All necessary steps are being taken to ensure the safety of all patients, visitors and staff," said Mount Sinai in a statement. "We will continue to work closely with federal, state and city health officials to address and monitor this case, keep the community informed and provide the best quality care to all of our patients."
The New York Times, citing a Mount Sinai spokesperson, reports "that to protect the patient's privacy the hospital was not making public his occupation, which country he had been in, whether he had been exposed to a patient with Ebola there, or whether he had close contacts like family members, friends or co-workers who were also at risk." Additionally, "In a statement to employees, hospital officials said that Ebola was spread only by direct contact with bodily fluids, and that infection control measures were being employed to protect patients and staff."
Nearly 900 people, out of about 1,300 infected, have been killed so far by the recent outbreak of the virus, mostly in the West African nations of Guinea, Liberia, and Sierra Leone. "There is always the possibility that someone with an infectious disease can enter the United States," said CDC spokesperson Barbara Reynolds earlier on Monday, especially since Ebola can take up to three weeks to exhibit symptoms. "The public health concern is whether it would spread, and, if so, how quickly." (More on that here.)
However, according to the WHO, the total number of deaths from Ebola remain in the mid-to-low four figures for now.
Two American missionaries who contracted the disease while working in Liberia are thought to have been saved by "three vials containing an experimental drug stored at subzero temperatures," so there's always that to fall back on.
Update, 6:15 p.m.: False alarm, probably. Hopefully!
This post has been updated throughout.