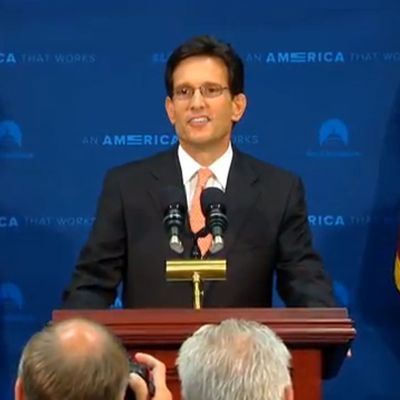 Eric Cantor won't stick around to see the other side of August's Congressional recess. In an exclusive interview with his hometown newspaper Thursday night, the former House Majority Leader said he will resign from Congress on August 18. "I want to make sure that the constituents in the 7th District will have a voice in what will be a very consequential lame-duck session," he told the Times-Dispatch.
Cantor, a Republican, relinquished his leadership role following a devastating primary defeat in June, when Dave Brat beat him by a whopping 12 points. Brat, who teaches at Randolph-Macon College, will face another Randolph-Macon professor in the general election.
Now, two months removed from his humiliating defeat, Cantor says he supports Brat's candidacy to represent Virginia's 7th District. He has asked Virginia Governor Terry McAuliffe to arrange a special election for his successor. The Times-Dispatch explains:
By having a special election in November, the winner would take office immediately, rather than in January with the next Congress.
"That way he will also have seniority, and that will help the interests of my constituents (because) he can be there in that consequential lame-duck session," Cantor said.
No word yet on what Cantor's own post-Washington plans are, but we suggest a nice, long vacation.