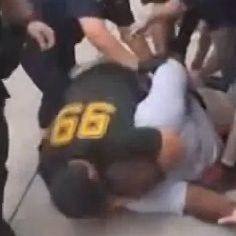 Just about everyone who watched the video saw a chokehold. Mayor de Blasio said it was a chokehold; NYPD Commissioner William Bratton said, diplomatically, "this would appear to have been a chokehold"; and the city's medical examiner said Eric Garner of Staten Island's death was a homicide, caused by "compression of his neck (chokehold), compression of his chest and prone positioning during physical restraint by police."
But the police unions are not buying it (because that's their job).
"It was not a chokehold," said Patrolmen's Benevolent Association president Pat Lynch, as reported by DNAinfo, at a press conference today directed at "police haters." "He was a big man who had to be brought to the ground to be placed under arrest by shorter police officers."
"I've never seen a document that was more political than that press release released by the [Medical Examiner's] office," he added. "We spoke with experts who had never seen it released the way it was, without the facts behind it, without the Medical Examiner's report and in parentheses, 'Chokehold.' That's not a medical term." And "compression of his neck"?
The New York Times today has a detailed look at what happens next in the Garner case. Despite the medical conclusion that it was indeed a homicide, Staten Island District Attorney Daniel M. Donovan Jr. will ultimately decide whether or not to charge the officer, Daniel Pantaleo, who has given up his gun and badge during the investigation. But as the Times notes, "It is a decision fraught with legal and political complications, all the more so because Staten Island is home to many police officers and, more than any other borough, is seen as sympathetic to law enforcement."
And how have these things turned out historically?
In April 1994, a Staten Island man accused of dealing drugs, Ernest Sayon, died in police custody and the medical examiner ruled his death a homicide, including "by compression of the chest and neck." A chokehold was never proven and a Staten Island grand jury declined to indict.
This time, of course, there is video, although even that now comes with complications after the videographer was arrested on a weapons charge, making him both a witness and defendant.
While the police unions said, "The mayor needs to support New York City police officers unequivocally," de Blasio responded at a press conference of his own. "I have an immense respect for the men and women of the NYPD. They have a tough job and they do it very well," he said. "Union leaders will say what union leaders say. We have a job to do, we're going to do our job. I don't let the rhetoric of union leaders get in the way of getting our job done."