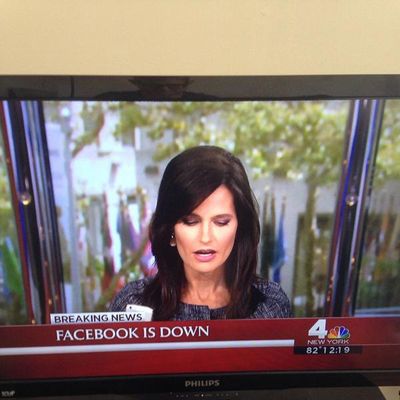 Photo: Jordan Valinsky/Twitter
It's the first Friday of August, a day that anyone unlucky enough to be in an office traditionally spends staring out the window and screwing around online, as opposed to doing work. It's a particularly bad time for Facebook — the preferred time-wasting device of desk-bound adults — to break, but that's exactly what happened late this morning.
For dozens of frustrating minutes, users attempting to log into the world's biggest social-media network were greeted not with their college roommates' thoughts on the situation in Gaza, but a message reading, "Sorry, something went wrong. We're working on getting this fixed as soon as we can." People did what they could to cope.
#NowFacebookDown quickly began trending on Twitter, which, it turns out, is a decent place to complain and make jokes about Facebook:
People registered their panic IRL, as well:

The site seems to be working now (though Facebook has yet to say explain what went wrong), so everyone can get on with their day of looking at other people's beach vacation photos.