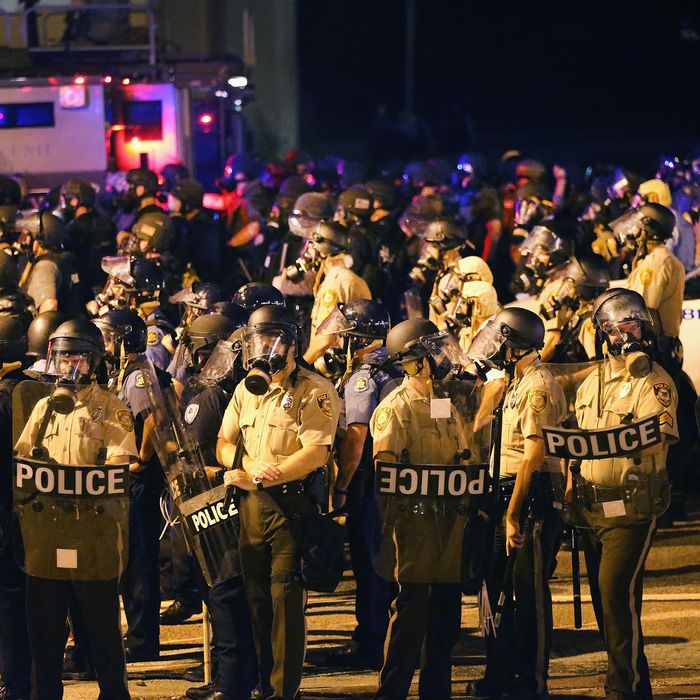 Photo: Scott Olson/2014 Getty Images
Now that the protests in Ferguson, Missouri, have died down, journalists are trying to learn a bit more about the officers who arrested and threatened them. In the past few days, two St. Louis–area cops were suspended for making racist remarks, and a third was relieved from duty for telling protesters he would "fucking kill" them. It turns out there are many other skeletons in the department's closet. The Huffington Post reports that the Ferguson Police Department hired an officer who resigned from the St. Louis City Police following multiple allegations that he hit children, and another officer is facing a civil rights lawsuit after allegedly choking and hog-tying a 12-year-old boy standing in his own front yard.
The first officer, Eddie Boyd III, was accused of physically abusing children three times between 2004 and 2006, but the St. Louis Metropolitan Police Department's internal affairs division only sustained the final complaint. Per HuffPost:
In April 2006, Boyd got into an argument with 12-year-old Jerica Thornton while following the girl and her brother home from school, according to a judge's summary of the investigation.

After a verbal altercation turned physical, Boyd tackled the brother to the ground. When Jerica came to his aid, Boyd struck her in the head with his gun.

Boyd later claimed that he had pistol-whipped the girl "accidentally."
Internal affairs said Boyd should be fired, but he was demoted instead. There was another incident involving a child six months later, when Boyd was serving as a probationary police officer. In April 2007, there was a fight outside Sumner High School, and freshman Christopher Dixon ran away, though he wasn't involved, because he feared he would be arrested. Boyd claims that while trying to detain the boy, he slipped and "inadvertently" hit him in the face with handcuffs. Dixon says the officer pulled up next to him in his car, pointed a gun at him, and threatened to shoot, then whipped him across the face with his gun.
Boyd resigned a short time later, claiming in a deposition that he "just didn't feel like dealing with the red tape and bureaucracy." Dixon sued Boyd, but a jury acquitted him after Dixon made vague comments about whether he felt the officer intended to hit him. Boyd successfully fought the state's attempt to have his police officer license revoked, and he was later hired as an officer in St. Ann, and then in Ferguson.
The second officer is Justin Cosma, who is one of the cops who arrested the Huffington Post's Ryan Reilly and the Washington Post's Wesley Lowery. Reilly and colleague Ashley Alman report that Cosma and another officer, Richard Carter, are facing a civil rights lawsuit for an incident that occurred in 2012 when they were with the Jefferson County Sheriff's Office. According to the lawsuit, a shirtless boy was standing at the end of his driveway checking his mailbox when the two officers approached and asked if he'd been playing on a highway nearby.
The suit says that after he said no, the officers "became confrontational," grabbed the boy, choked him, and threw him to the ground. He suffered "bruising, choke marks, and cuts across his body," as the officers "hog tied" and arrested him. The cops accused the 12-year-old of "assault of a law enforcement officer third degree," and "resisting/interfering with arrest, detention, or stop," but prosecutors refused to bring charges.
The allegations were made just after Cosma took a job with the Ferguson Police Department. Both he and Boyd have received awards for their conduct in other incidents.