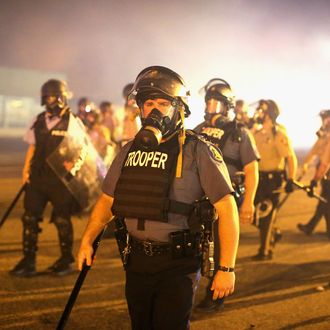 Photo: Scott Olson/Getty Images
While St. Louis County Police Chief Jon Belmar still has no regrets about the police response to the protests in Ferguson, Missouri, the fact that the officers didn't "wade into the crowd with nightsticks and riot sticks" wasn't enough to impress the locals. Five people detained by police during the protests are suing the Ferguson and St. Louis County police departments for $41.5 million, accusing officers of using excessive force, making false arrests, and other civil rights violations. The federal lawsuit was filed by Black Lawyers for Justice of Washington, D.C. on Thursday, and names the chiefs of both departments, as well as several named and unnamed officers, as defendants. "The police were completely out of control," said attorney Malik Shabazz of Black Lawyers for Justice. "In those initial days, it was virtually a police riot."
The lawsuit describes more disturbing tales from Ferguson. On August 13, Tracey White and her son bought food at McDonald's after attending a Peace and Love rally hosted by her church. When her son went to the bathroom she returned to the counter to order a sundae, and suddenly two officers in riot gear burst in and ordered her to "get out." According to the suit, she tried to tell officers her son was in the bathroom and they were waiting for her husband to pick them up. Then she "continued to express her concerns" when the boy emerged from the bathroom and was accosted by officers. She was thrown to the ground and handcuffed, and the officer said she was being arrested because she wouldn't "shut up." When she tried to give her son the iPad she was holding, he was arrested too.
On the same night, Dewayne Matthews Jr. says he was assaulted and arrested while trying to check on his mother, who lives near West Florissant Avenue. The bus let people off early owing to the protests, and as he was walking toward his mother's house he was confronted by about eight officers with their weapons drawn. He says he immediately put his hands up, and was shot with rubber bullets.
The suit says Matthews "fell into a creek or sewer," and an officer pounced on him, "slammed his face into the concrete, and pushed his head underwater to the point that he felt he was going to be drowned." He was then hit with pepper spray and arrested, and spent the night in the hospital being treated for his injuries. At a press conference, Matthews, who has dreadlocks, said the officers also used racial slurs, calling him "coon" and "mop head."
St. Louis County police declined to comment on the suit. Shabazz said he expects that the suit will be expanded to include other people who were arrested during the protests.