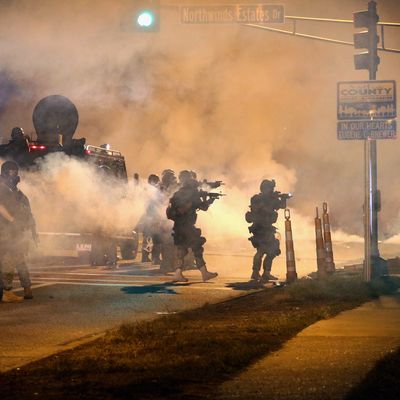 Photo: Scott Olson/2014 Getty Images
The first night of demonstrations since the National Guard was deployed in Ferguson, Missouri, began peacefully, but a few hours after dark the situation turned violent again. Earlier in the evening, hundreds of protesters calmly marched along the sidewalks, as police reminded them that they would be arrested if they congregated in one place. Then, at 9:40 p.m., about 200 people made their way to a line of police officers. At a press conference early on Tuesday morning, Missouri Highway Patrol Captain Ronald Johnson said the crowd was "loud, but not aggressive" so officers didn't react — until people began throwing bottles at police.
"These criminal acts came from a tiny minority of lawbreakers," said Johnson. "But anyone who has been at these protests understands that there is a dangerous dynamic in the night; it allows a small number of violent agitators to hide in the crowd and then attempt to create chaos."
Protesters told CNN that a few white anarchists from out of town were the ones throwing objects at the police. The men were pushed out of the crowd and there was applause when they were arrested.
It looked like the standoff had been defused, but the situation escalated again as people threw more bottles, refused to disperse, and gathered at the QuikTrip convenience store, which protesters had been told was off-limits. Protesters were also seen dragging items into the street in an attempt to make a barricade. After people were warned to leave the area, police launched tear gas around 11 p.m.
A freelance photographer collapsed on the ground after being hit with tear gas:
There were also reports of gunshots in the area. After fleeing from the tear gas, Don Lemon and other CNN journalists put on gas masks and flak jackets on-camera:
While the curfew had been revoked, at midnight police attempted to clear the streets, announcing, "If you are not credentialed media, you need to disperse or you will be subject to arrest."
Johnson confirmed that there was no curfew, and said the streets were cleared because the situation had become unsafe. "Once again, not a single bullet fired by officers, despite coming under heavy attack," he said. Johnson reported that two civilians were shot on Monday night, and four officers were injured by objects thrown from the crowd.
Fires were set at a business and an unoccupied residence, according to Johnson. At the press conference, he displayed a Molotov cocktail and two guns confiscated from a vehicle that had parked near the media staging area. He admonished some members of the press for failing to leave the streets when asked to do so, and urged them not to "glamorize the acts of criminals."
By 2 a.m., 31 people had been arrested, including demonstrators from as far away as California and New York. He urged locals to protest during the day on Tuesday. "Make your voices heard when you can be seen and when you're not the cover for violent agitators," he said. "That is my suggestion."
Johnson, who appeared close to tears, added, "We are going to make this neighborhood whole, we are going to make this community whole, and we are going to do it together."
This post has been updated throughout.