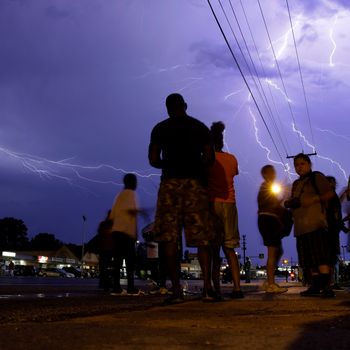 Protesters stand in the street as lightning fills the night sky on August 20, 2014.
Photo: Jeff Roberson
After 11 days of violent clashes between police and protesters, Ferguson, Missouri, finally saw a night of relative calm on Wednesday. Only about 150 people came out to march down West Florissant Avenue, and Missouri Highway Patrol Captain Ron Johnson said there were "less agitators" in the crowd. The dramatic shift is being attributed to several factors, including heavy rain around 8 p.m., efforts by both sides to deescalate the situation, and the arrival of Attorney General Eric Holder earlier in the day. Johnson said people feel that "their voices are being heard by the chief law enforcement officer in the land."
The night wasn't entirely conflict-free. Johnson said that around 8 p.m., an officer was hit by a bottle, but he wasn't injured. Later a white woman showed up holding a sign supporting Officer Darren Wilson, the cop who shot 18-year-old Michael Brown. Some taunted her and one man was led away by police, but a few minutes later protesters linked arms and formed a circle around her to prevent a more serious incident. The woman was taken away in a police vehicle and later released.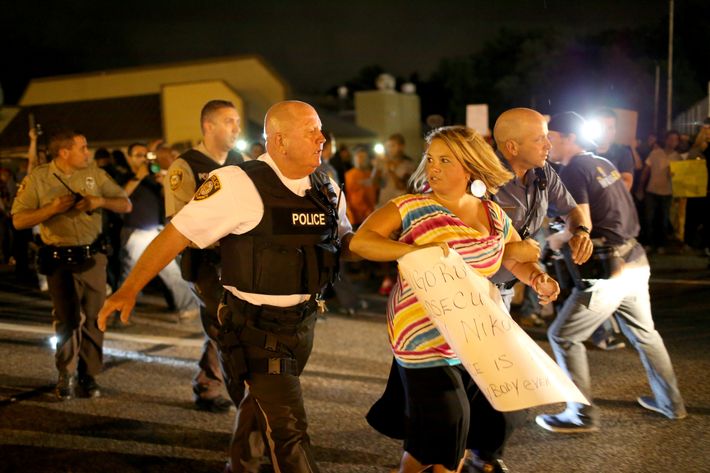 In an early-morning press conference, Captain Ron Johnson said there were no shootings, fires, tear gas, mace, or Molotov cocktails. Only six people were arrested, compared to 47 on Tuesday night. "It was a very good night in Ferguson," said Johnson. "I am going to enjoy the peace we had today and not focus on what ifs."